When it comes to high-performance side-by-side and off-road vehicles, the Can-Am Commander is undoubtedly the king in its class. It has an unmatched level of excitement and is built to spec with the extraordinary capability to handle the toughest terrain on earth. The thing works like a beast.
There are many types of trailers that fit the Can-Am Commander. These include a lot of single and double axel versions, versions with dump beds, and foldable trailers.
Join our free Facebook group and ask your question there. We promise you, you'll get an answer from one of our team members or group members. Join the group here!
Why Are Weight And Dimensions So Important?
For two reasons, the weight and dimensions are important.
The weight and size of the UTV determine its driving characteristics. A heavy vehicle can be difficult to steer. If the vehicle is too long, it is difficult to make sharp turns.
When it comes to the size of a trailer to transport your Commander, weight and dimensions are also important. The whole thing must still be pulled by your car.
For the purchase of a trailer you need the following information, these are:
The dimensions of the Can-Am Commander, so you know it fits your trailer well.
The weight of your Can-Am Commander because this has to be pulled by your car together with the weight of the trailer.
It is good to think about this early so that you are not surprised.
Also read: How to Choose the Right Trailer to Haul Your ATV/UTV?
What Is The Weight Of A Can-Am Commander?
The width, length, height and weight are different for each type of Commander. View the table below for the different versions of the Commander and look up the data.
| Can-am Model | Estimated Dry Weight (lbs) | Dimensions in inches (l × w × h) |
| --- | --- | --- |
| Commander DPS 1000 | 1600 lb (725.5 kg) | 128.5 x 62 x 70.5 in (3264 x 1575 x 1802 mm) |
| Commander DPS 700 | 1530 lb (694 kg) | 128.5 x 62 x 70.5 in (3264 x 1575 x 1802 mm) |
| Commander XT 1000 | 1675 lb (759.8 kg) | 130 x 62 x 74 in (3302 x 1575 x 1880 mm) |
| Commander XT 700 | 1575 lb (714.4 kg) | 130 x 62 x 74 in (3302 x 1575 x 1880 mm) |
| Commander XT-P   | 1725 lb (782.4 kg) | 130 x 64 x 74.5 in (3302 x 1626 x 1896 mm) |
| Commander X MR | 1808 lb (820.1 kg) | 132 x 64 x 74.2 in (3352 x 1626 x 1885 mm) |
| Commander MAX DPS | 1855 lb (841.4 kg) | 158.3 x 62 x 73 in (4018 x 1575 x 1854 mm) |
| Commander MAX XT | 1930 lb (875.4 kg) | 160.4 x 64 x 76.2 in (4074 x 1626 x 1935 mm) |
| Commander MAX XT-P | 2000 lb (907.2 kg) | 160.4 x 64 x 76.7 in (4074 x 1626 x 1948 mm) |
Note: The weight and dimensions are taken from the 2023 Can-Am Commander models. The weight of the Commander's that were previously produced are close to the weights mentioned in the table.
Added Weight, What Now?
You may have completely customized your Can-Am Commander with aftermarket parts. You may have added or changed components, such as bigger tires and rims, a winch, or a light bar.
These additions also have an impact on the rig's weight. You will need to estimate the weight because the manufacturer's data is no longer relevant. The modifications done to the vehicle should be considered in addition to the manufacturers' data.
There Are Different Types Of Weight
If you look for the weight of the Defender, you will encounter several ways in which the weight is expressed. This can sometimes be confusing.
The most important weight expressions are:
Dry Weight
This is side-by-side's weight without cargo or fluid like fuel or oil. You can't drive the UTV in this condition.
Wet Weight
It is ready-to-ride weight, also called Curb weight. The weight includes a full fuel tank, fluids, and all standard equipment of the UTV. It won't significantly increase the trailer's weight and is unlikely to cause you to rethink its size.
Gross Weight
The gross weight is the maximum weight of the UTV of your side-by-side and includes the wet weight plus passengers and cargo.
Payload
Payload is the total weight the UTV can carry, including the driver, passengers, and cargo. Many people confuse the payload and towing capacities when choosing a trailer. The payload capacity is the weight that a vehicle or trailer can safely transport without endangering the suspension, tires, or other parts.
Some things, like the strength of the frames, the suspension, the size of the tires, and the braking performance, affect payload capacity. There are many serious repercussions if you exceed your trailer's payload capacity. First and foremost, you must always keep control of your trailer. If it is difficult to navigate the trailer because it is overloaded, you will be endangering yourself and other drivers.
An overloaded trailer is also more prone to issues like flat tires or broken axles. Always keep your payload below the maximum limit to keep your vehicle and trailer safe on the road. Thus, it would be best if you never operated at or close to 100% of the capacity.
And What About The Length?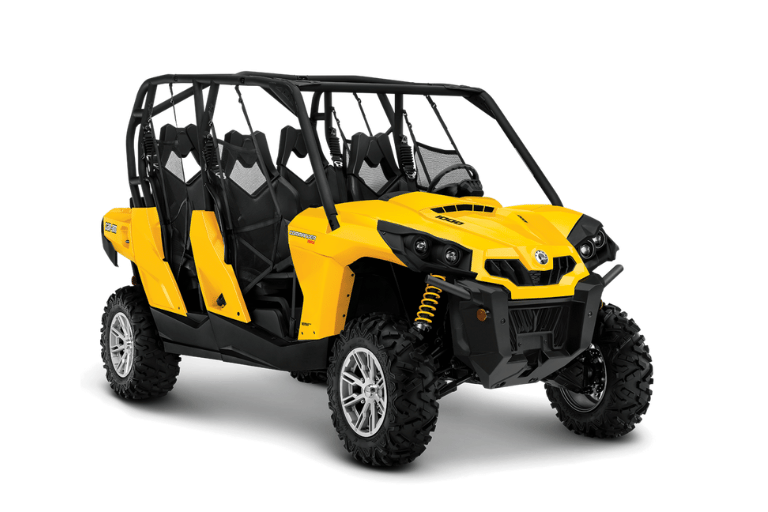 If you change the Commander with aftermarket parts, its dimensions may change. For example, installing bigger tires can widen your UTV. So, the dimensions are no longer standard.
The Commander measurements must be re-examined if you have modified or added components, such as larger wheels, installed a light bar or winch. The manufacturer's specifications may no longer be applicable.
In this case, it is best to measure the width and length. This way you have the exact dimensions of your vehicle.
Order the Trailer
Now you know how heavy and big the Can-Am Commander is. How do you choose among the several trailers, and what should you do next? It is important to determine what features your Can-Am Commander trailer must have and how much you can comfortably spend on it.
Find out which trailer manufacturers best fulfil your needs by visiting their websites. Then, decide whether you want your trailer delivered by the manufacturer or a nearby dealer.