Polaris is a pioneer when it comes to off-road vehicles such as ATVs and UTVs. They have a massive client base, and they do have a successful lineup to back that up. Even with all this success, you cannot overlook the fact that the company has been plagued by problems and recalls for a long time. So, the question is: are Polaris ATVs reliable?
Though Polaris is often called unreliable, apart from a couple of models, Polaris has quite a reliable line-up. People seem to forget that ATVs in general require more maintenance compared to other vehicles. With proper maintenance, even Polaris ATVs can last a lifetime.
Due to several issues, some models are more reliable then others. Let us look at the ATV models and there reliability.
Also read: Who Owns Polaris, And What are Their Subsidiaries?
Join our free Facebook group and ask your question there. We promise you, you'll get an answer from one of our team members or group members. Join the group here!
Sportsman 450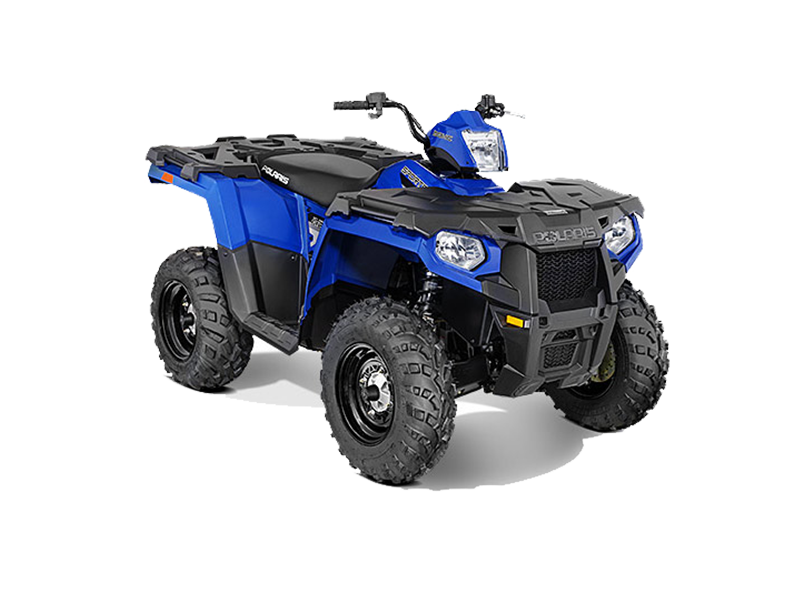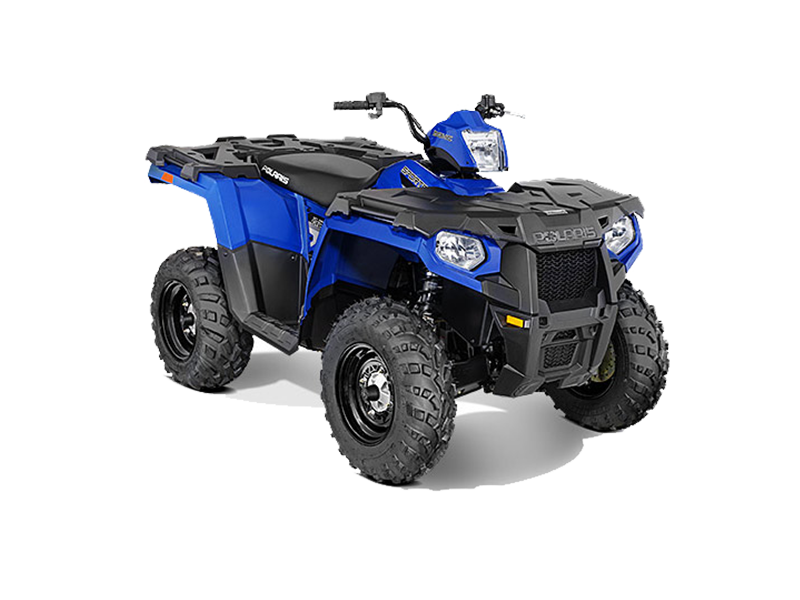 Polaris is not known for its reliability. But in their wide array of ATVs, the Sportsman 450 is one of the Polaris ATVs that you can depend on.
The Sportsman 450 springs from the value line-up of Polaris. What you're looking for in the 450 is a tried and true engine, tranny, frame, and suspension setup. Keep in mind that this isn't the fastest nor the strongest ATV.
The reliability of this machine depends on how you treat it. You certainly can go off-roading with this. But try to keep it decent trails. If you go through a lot of mud and pound on the bike at higher rates of speed while contacting roots, rocks, and ruts, you're going to go through bushings and wheels bearings.
Similarly, you should also be mindful of the engine and transmission while riding. Try not to redline the RPMs often and do not overload the engine.
All in all, the Sportsman 450 is worth its price tag. Use it as it's supposed to, and it shall serve you well.
Also read: 7 x Most Common Polaris Sportsman 450 Problems!
Overall Customer Rating And Review
User review ➡ 4.4



"Overall, I love it. There are certain things I wish were done a little differently. There's only one brake lever that operates front and rear at the same time. There is a foot brake, but I don't always feel it does the best job. I've tried a few of these new Polaris'. I believe it's in the clutch of the CVT when you push the throttle the RPMs have to hit a certain point before it moves, so it jerks from a stop. I've found if you just hold the brake you'll feel it engage, and then you can control it. I don't regret buying it. I think it has plenty of power for my needs. I've had it up to 42 mph. I'm fairly large and I've gotten it up to 36 going uphill."
Also read: Polaris vs Can-Am, The Ultimate Comparison!
Pros And Cons Sportsman 450
Pros
---
Good at both off-roading and riding on dirt roads
Comfortable for long rides
Plenty of ground clearance for an ATV of its size
Impressive electronics
Cons
---
The front and rear lights don't match as the front is halogen and the rear is LED
A bit too heavy for a 450cc engine
The front wheels receive more power than the rear, causing uneven wear
Poor quality and reliability
Recalls
EPS malfunctioning (2017 Sportsman 450)
Overall View Sportsman 450
The handling and power of the Sportsman 450 trump the few issues it has. The ATV is good for both work and play.
---
Sportsman 570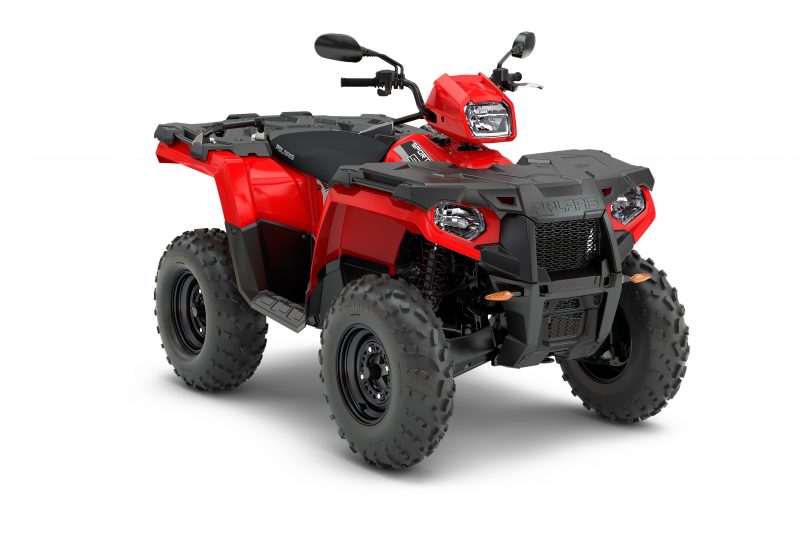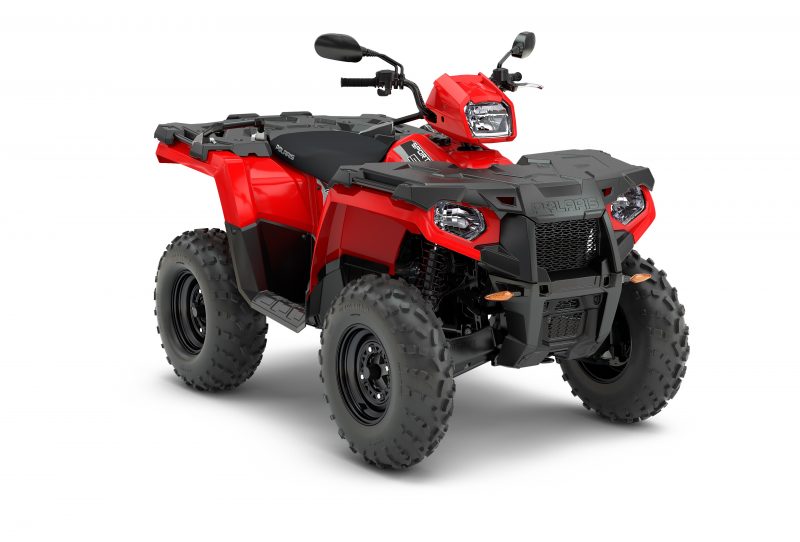 The Sportsman 570 is one of the highest sellers for Polaris. It is even among the top-selling ATVs worldwide. The 570 is a balanced ATV that is sought after by customers with different needs.
It is not the best ATV if you are a thrill rider looking to conquer mud and rock regularly, but with a ground clearance of almost 12 inches, it can handle its fair share. On the other hand, if you are looking for a comfortable way to get from point A to point B, this is your ride. You can ride it down a beaten path while barely feeling a bump.
When looking at its reliability, the model is plagued by the popular Polaris steering issue. What is supposed to be "improved electronic power steering" is actually a major problem. Combine this with the aggressive tire tread pattern of the Sportsman 570, and it's going to take some time to adapt to the understeer.
The engine and transmission of the 570 are solid. The frame is quite sturdy and can take a beating. Overall, the 570 is a very reliable machine.
Also read: 5 x Most Common Polaris Sportsman 570 Problems!
Overall Customer Rating And Review
User reviews ➡️ 4.4



"I have had my 2021 Sportsman 570 for not quite a year. It has performed well while riding (I will never get another ATV without EPS) and it is a true workhorse when plowing snow. I applaud Polaris for adding a battery tender port. This is a great bike that has all you need for work and play."
Pros And Cons Sportsman 570
Pros
---
EPS is available even in older models
Room for storage upfront
Good ground clearance
Comfortable for both rider and passenger
Cons
---
Steel wheels add unnecessary weight compared to aluminum wheels on the base model
The engine heats up fast and the fan works a lot
The front storage rack lacks quality
Mostly made from cheap plastic
Recalls
The air intake duct can contact the fuel rail and cause a fuel leak, which poses a fire hazard (2014 to 2016 Sportsman)
Fuel can leak into the headlight pod (2014 Sportsman 570)
Overall View Sportsman 570
The Sportsman 570 is good for both work and play. But the newer machines are getting more and more cheap quality parts on them. This might spring reliability issues in the future.
---
Sportsman 850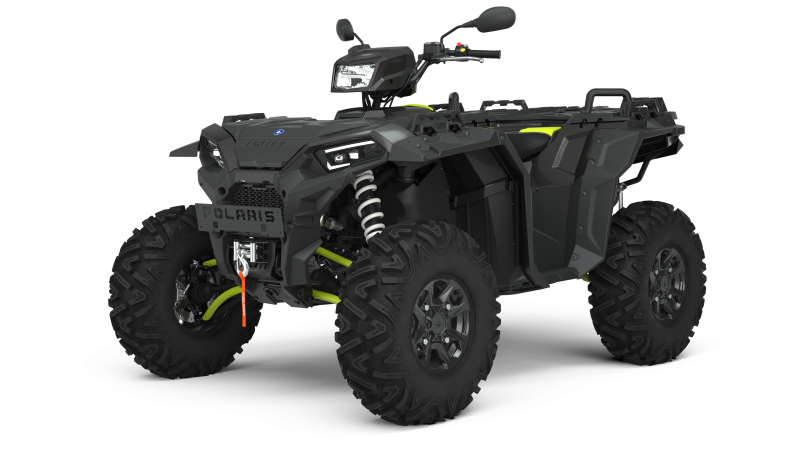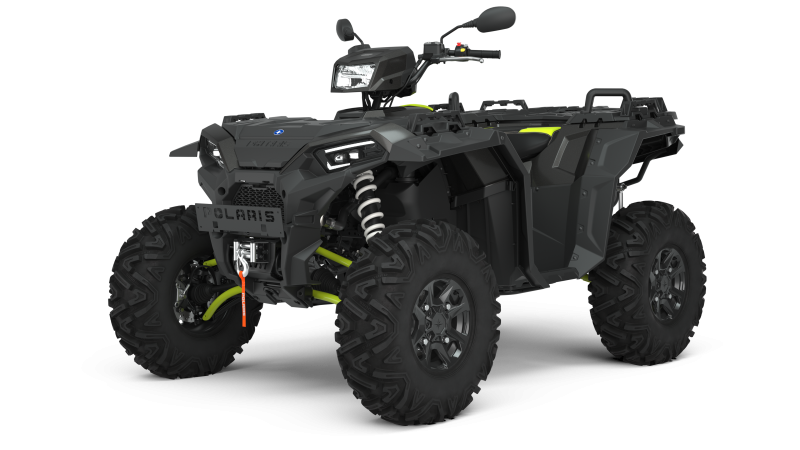 Talking about the reliability of the 850 is a bit tricky, cause it mainly depends on how you ride it. Unlike traditional cars, everyone uses their ATVs differently. The Sportsman 850 is a powerful yet comfortable rig that can handle almost anything you throw at it.
Again, this is another model that suffers due to the Polaris steering problem. A recall was issued for the particular model and the repairs made the ride slightly better.
Another serious issue would be a possible fire hazard. Only a few cases of combustion were indeed reported, but the overheating engine cannot be overlooked. The overheating engine caused the right side panel to melt and cause injuries.
Depending on the way you ride, the maintenance routine has to change as well. The machine is thirsty for grease. If you are keen on maintenance, the ATV could last a long time.
Also read: 6 x Most Common Polaris Sportsman 850 Problems!
Overall Customer Rating And Review
User reviews ➡️ 4.6



"Very satisfied with my ultimate trail, after being away from the ATV world for a few years, very happy that I chose this ride, I use it in different types of trails and it's versatile, comfortable, and agile. From low-end power to max acceleration, it's always ready for fun. Love it!!"
Pros And Cons Sportsman 850
Pros
---
Good power both at low RPMs and high
Plenty of storage room
EBS and Active Descent Control on selected trims
Comfortable suspension
Cons
---
Really heavy
The center of gravity is elevated, so not so good at cornering at high speeds
Not a lot of improvement in towing capacity compared to the smaller engines
Outdated halogen lights, even in newer models
Recalls
The right side panel heat shield can melt (2015 and 2016 Sportsman 850)
EPS malfunction (2017 Sportsman 850)
Oversized ball joint in the front suspension (2009-2010 Sportsman 850)
Overall View Sportsman 850
The Sportsman 850 is one of the best-selling ATVs globally. It has a lot of power and it is good for both work and recreational off-roading. Its comfortable seating will allow you to enjoy longer rides.
---
Sportsman (XP) 1000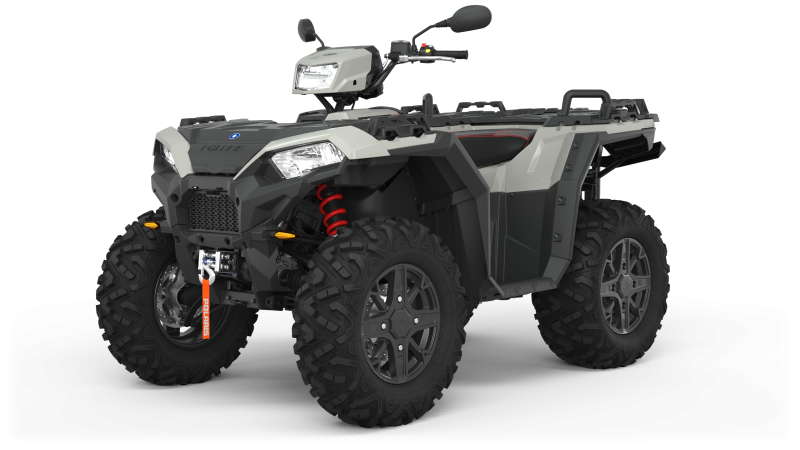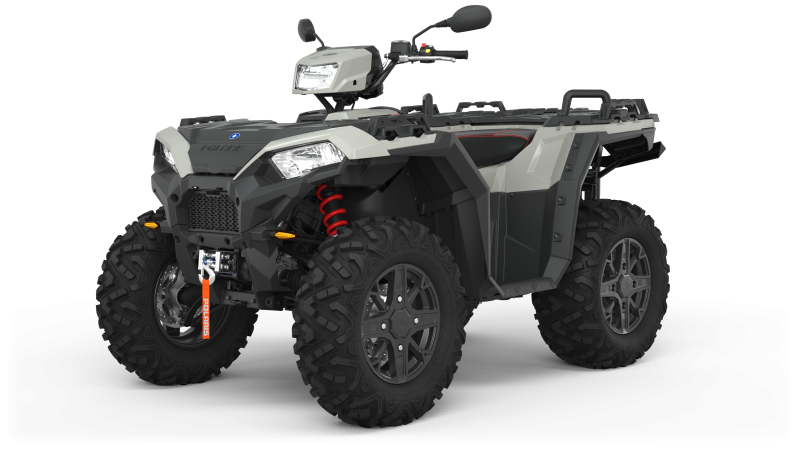 Generally, when you spend more money on a product, you hope it'd be more reliable. That is not the case with the XP 1000. Out of the Sportsman series, this is one of the models that constantly receives a ton of complaints. And there is no surprise that the steering issues made their way into the XP 1000 as well.
This is a powerful machine. More often than not, owners take this ride through rugged terrain. Even though its engine is built to handle this type of terrain, the rest of it isn't. The paint peels off easily and the frame isn't sturdy either. Bent rods are quite common with the XP 1000.
Overheating is another issue with the Sportsman 1000 XP. The massive engine creates a lot of heat when operating and there is just not enough ventilation to maintain the engine temperature. If you do not deal with this problem early on, you would run into a ton of problems down the road.
Also read: 5 x Most Common Polaris Sportsman XP 1000 Problems!
Overall Customer Rating And Review
User reviews ➡️ 4.6



"Great all around ATV from wheelies to plowing and everything in between, very satisfied with the performance of this wheeler…"
Pros And Cons Sportsman (XP) 1000
Pros
---
Plenty of power is generated by the engine
Active Descent Control to assist in taking those steep declines
Electronic Power Steering makes it easy to maneuver the 1000Xp
Almost a foot of ground clearance
Cons
---
No budget-friendly models
Weighs almost 1000 pounds which leans towards the weight of a UTV and not an ATV
Due to its large size, it might not fit into smaller trails
Power steering failure is quite common
Recalls
EPS failure (2017 Sportsman 1000)
The right side panel heat shield can melt (2015-2016 Sportsman 1000)
Overall View Sportsman (XP) 1000
The Polaris Sportsman 1000 (XP) is a powerful machine. You should handle it with respect and care. But if you can master it, there is no better rig for off-roading or work. The biggest drawbacks are its size and weight. Towing it in the back of your trailer won't be easy.
---
Sportsman Touring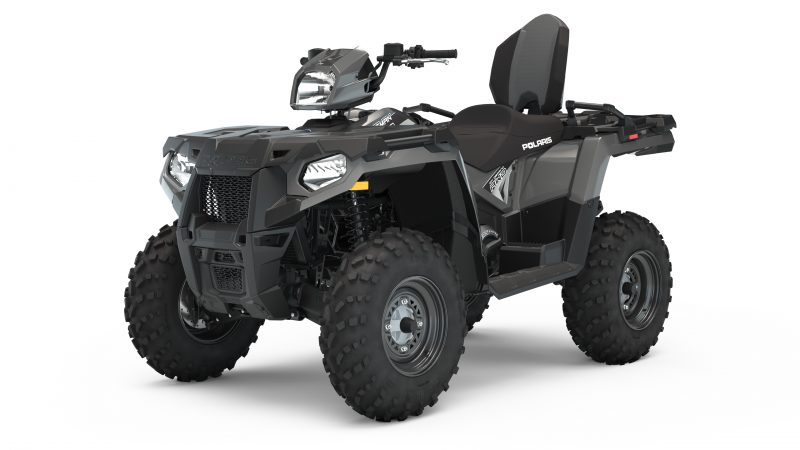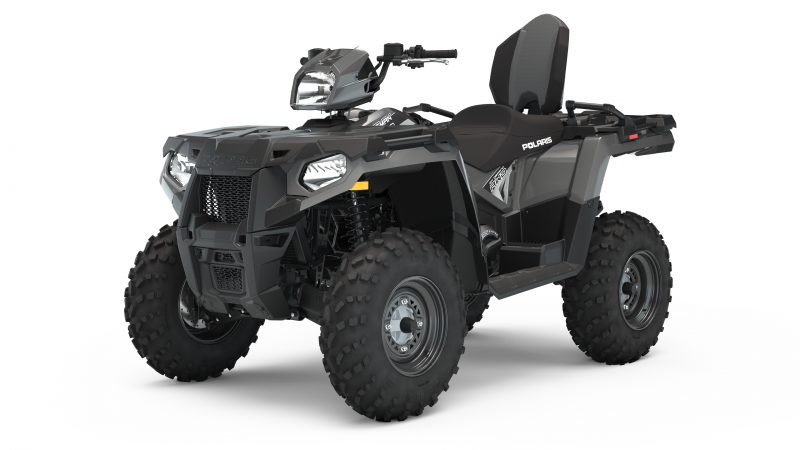 The touring lineup from Polaris is built to offer a smooth and comfortable ride. It is not built for extreme off-roading. Offering just over 10 inches of ground clearance, the off-roading capabilities are limited.
But the machine achieves what it was built for. For once, the electronic power steering actually works. This makes the ATV easy and physically less demanding to ride.
Maybe because of the way it is meant to be used, the Touring models are often very reliable. There are a few issues spread out through the parts, but nothing to be noted as a defect.
Also read: 6 x Most Common Polaris Sportsman 110 Problems!
Overall Customer Rating And Review
User reviews ➡️ 4.6



"We ride extensive trails near our cottage. Anytime we stop, people want to look over this machine. The comfort for long rides is outstanding. The two-up seating is second to none. It has more than ample power. It's nice to cruise without running the tach up too. Decent on fuel consumption. Oh, and it sounds great too!"
Pros And Cons Sportsman Touring
Pros
---
Comfortable for long rides
Very responsive throttle
Good handling and easy to drive
Very stable even when riding with 2 people
Cons
---
Tires are soft and puncture easily
Lack of storage room
No arched A-arms for additional ground clearance
Starting issues
Recalls
The air intake duct can contact the fuel rail and cause a fuel leak (2014 Sportsman Touring 570)
Fuel can leak into the headlight pod, posing fuel leak and fire hazards (2014 Sportsman Touring 570)
Overall View Touring
As the name implies, the Sportsman Touring is built for long rides. This doesn't mean it is bad at off-roading or as a workhorse. You also have a variety of power options to choose from.
---
Scrambler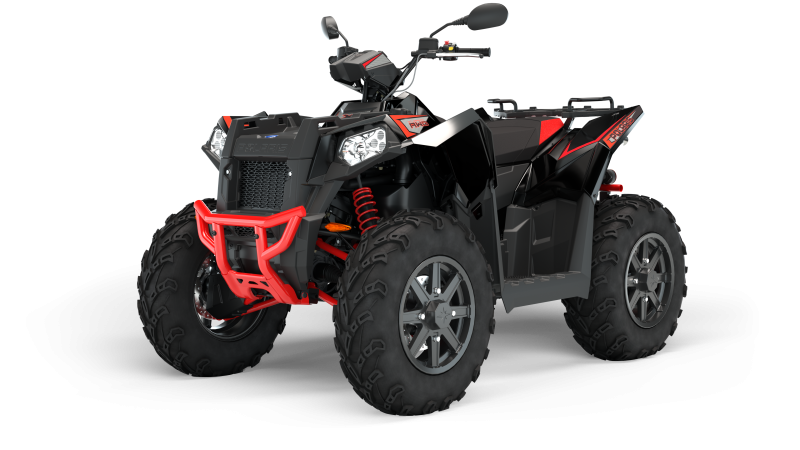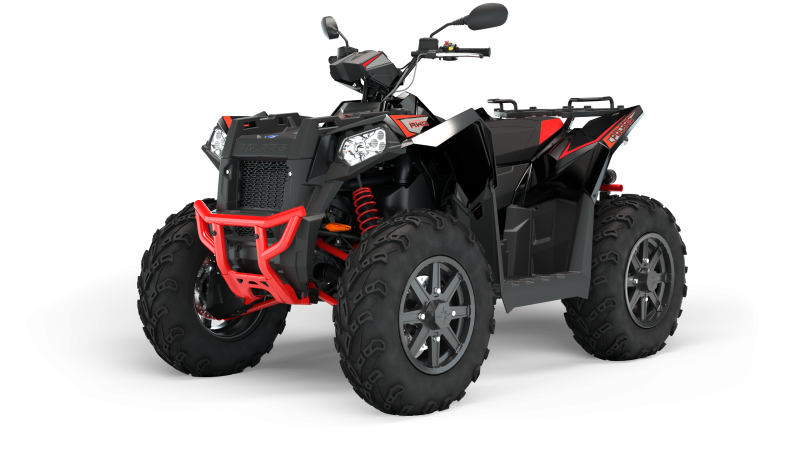 The Scrambler is almost the opposite of the Touring. This was built to take on the most grueling terrain. The Scrambler evolved with time, increasing in power and off-roading capability, especially when mud riding became popular back in the mid-2000s.
This is an often reliable machine, even if it takes a lot of punishment on the trail. The reliability mainly depends on the user.
Often, modifications are used to increase the durability of an ATV. This is not the case with the Scrambler, since the best way to get the most out of it is to keep it the same way it came from the factory.
Apart from that, maintenance is key. You might have to replace bushings, u joints, wheel bearings, and other components often. But the primary components of the Scrambler can be considered reliable.
Also read: 5 x Most Common Polaris Fuel Pump Problems!
Overall Customer Rating And Review
User reviews ➡️ 4.3



"I have only had it for a couple of months, but it has been great. I have only had one problem with it and the dealership helped out with it."
Pros And Cons Scrambler
Pros
---
Small storage racks come in handy
Great handling in mud, rocks, sand, and other terrains
The engine is smooth and the exhaust sounds good
14 inches of ground clearance
Cons
---
Weighs close to 900 pounds
Transmission engagement after idle is rough
The design of the footboard catches a lot of mud
Burning oil
Recalls
The throttle release switch can fail (2014-2017 Scrambler)
Overall View Scrambler
The Polaris Scrambler is one of the best options out there if you are an avid off-roader. It has enough power to go up and over any obstacle. Plus, the handling and seating space allows you to move around to have better control over the rig.
---
Outlaw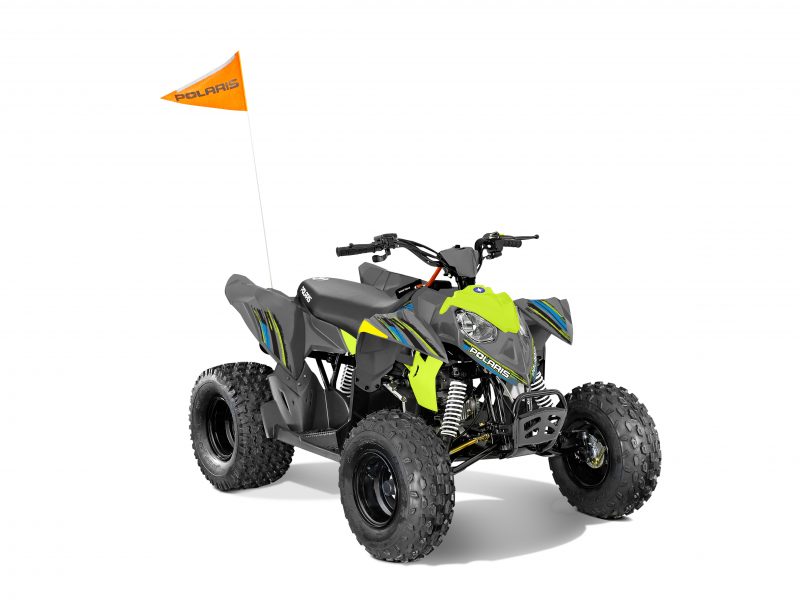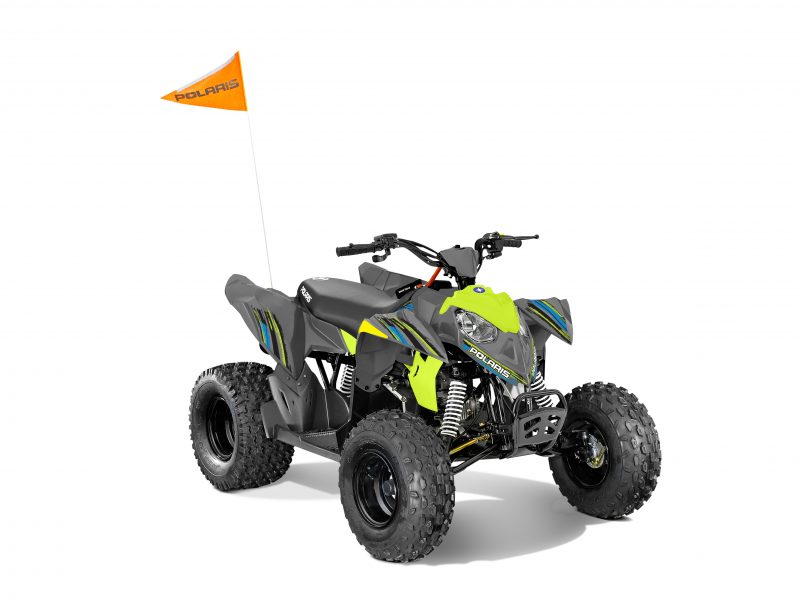 Most Polaris parts come from other companies and get assembled under the name Polaris. This is a good thing in the case of the Outlaw, since the engine comes from KTM. This is one of the most reliable engines in any Polaris ATV.
The same cannot be said about the rest of the ATV. It is littered with problems from head to toe.
Many owners run into starter problems just a few days into ownership. The same issues are seen with the newer models and their EFI technology.
Electrical problems are also quite common. Burnt lights, fuses, and damaged wires are all common complaints from Outlaw owners.
Finally, the brakes are unreliable. They fail prematurely, even if you are not hard on the brakes.
The only silver lining in this dark cloud is the drivetrain. You can count on the engine and transmission of the Outlaw to outlast the rest of the machine.
Also read: 7 x Most Common Polaris Outlaw 110 Problems!
Overall Customer Rating And Review
User reviews ➡️ 4.3



"kids love it and it's so easy to handle and so easy to learn on. Controls are perfect, my 8-year-old was riding like a professional in 2 hours"
Pros And Cons Outlaw
Pros
---
Machines available for riders of all ages and sizes
Great machine for learning
Shocks are compression adjustable and can be adjusted manually
Has good low-end power
Cons
---
No reverse is smaller machines
Cheap build quality
EFI issues are quite common
No underside protection for suspension
Recalls
A Flaw in the inner layer of the fuel line may result in fuel leaks (2022 Outlaw 110)
A retention bolt can come loose, causing the rear wheels to lock up (2006-2008 Outlaw IRS)
Overall View Outlaw
The Polaris Outlaw lineup is built for young riders. It is built with safety as the primary concern and not speed or off-roading. Still, you should be able to traverse through easy trails without an issue.
---
Phoenix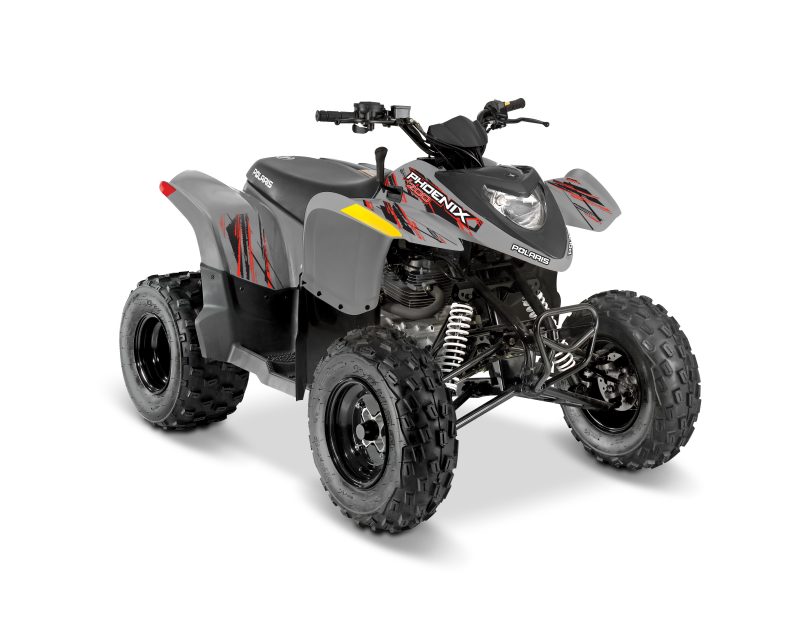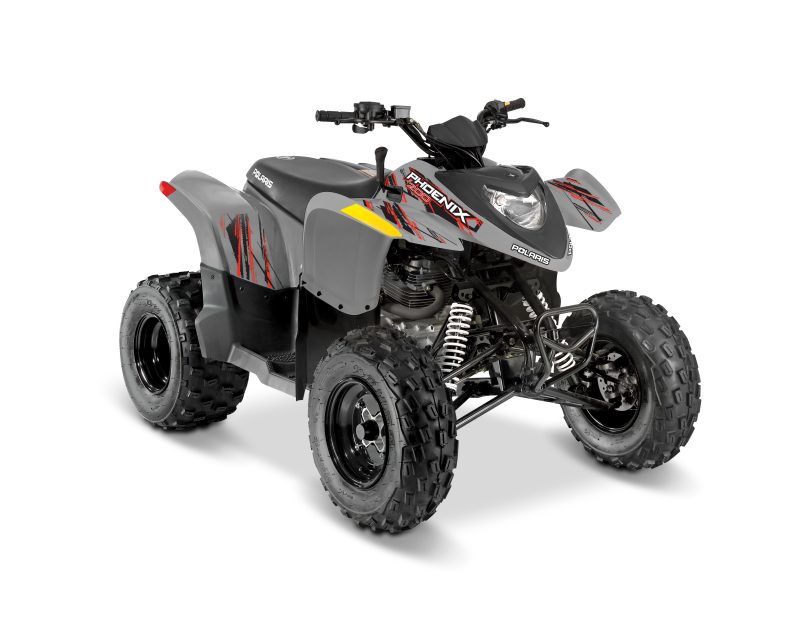 Compared to the Outlaw, the Phoenix doesn't suffer from many problems. But the problems it suffers from are either from the engine or the transmission. These parts are outsourced to a company called AEON from Taiwan, and they are nowhere near as reliable as KTM.
Even though the transmission is quite simple with only Forward, Neutral, and Reverse, the gears still tend to get stuck. Engine stalling, Overheating, and Starting problems are some other common issues with the Phoenix.
Though there is nothing to complain about the rest of the Phoenix, the drivetrain is crucial in keeping the ATV functional. Considering the problems with the Phoenix, it is hard to deem this ride reliable.
Also read: 6 x Most Common Polaris Phoenix 200 Problems!
Overall Customer Rating And Review
User reviews ➡️ 3



"My son would love to be using the wheeler more, he has had it out about 5 times, three of those times it broke down after it got warm 30 mins of driving it would just quit. So far, every time the dealer is stating that it is the fuel filter. We are careful with fuel, using only supreme and even bought new jugs. The problem persists. If this happens again I do hope we are refunded, having just bought the bike at Christmas, it is not a good experience."
Pros And Cons Phoenix
Pros
---
Can be ridden by ages 14 and over
Easy to find parts since it has been around for a while
Though it houses only a 200cc engine, it can still be ridden by adults
Low entry price
Cons
---
The least reliable ATV in the Polaris lineup
Still runs with an old carburetor design
Shuts down when riding, often because of the tricky position of the choke
Engine dies when riding through water
Recalls
The throttle limiter could fail due to damages suffered when shipping (2014-2017 Phoenix)
The throttle speed control stop can break and become stuck (2011-2021 Phoenix)
Overall View Phoenix
The Phoenix 200 has suffered many bad reviews due to its reliability issues. It is by far the worst model to come out of Polaris. It's hard to put a silver lining on this dark cloud.
---
Images: Polaris ORV Media
Reviews and ratings: Polaris ATV reviews & ratings
Recent Posts
link to Where Is Your Polaris Made? ATVs, UTVs, Slingshot and ...
Polaris Inc. produces snowmobiles, ATVs, UTVs, motorcycles, and neighborhood electric vehicles. The Polaris factory in Osceola, Wisconsin, makes most of the parts, and the assembly facilities in...
link to Polaris UTV Reliability, Check Your Model Here!
Everything you use has a natural life span. Whether it's a lawn mower that will eventually rust to death or a 30-year-old wrench that will probably last another 30 years, everything has its limits....