Polaris' off-roading vehicles come with a lot of power under the hood. Which enables them to conquer terrain no other vehicles can. The dirt, the mud, the water, and the sand are home for a Polaris. Polaris focuses a lot on power on its machines, and that can cause heat problems. As a result, you end up with your Polaris overheating due to a variety of different issues. 
Your engine produces so much heat that your vehicle needs a powerful cooling system to balance everything up. If not, the heat will end up eating your vehicle from the inside out. If you are like most Polaris ATV or Polaris UTV owners, you tend to push your machine to its limits quite often. And with that in count, overheating problems are ever-present. If your machine is suffering from overheating, this might just save you from a trip to the mechanic.
Also read: Are Polaris ATVs Reliable, Check Your Model Here!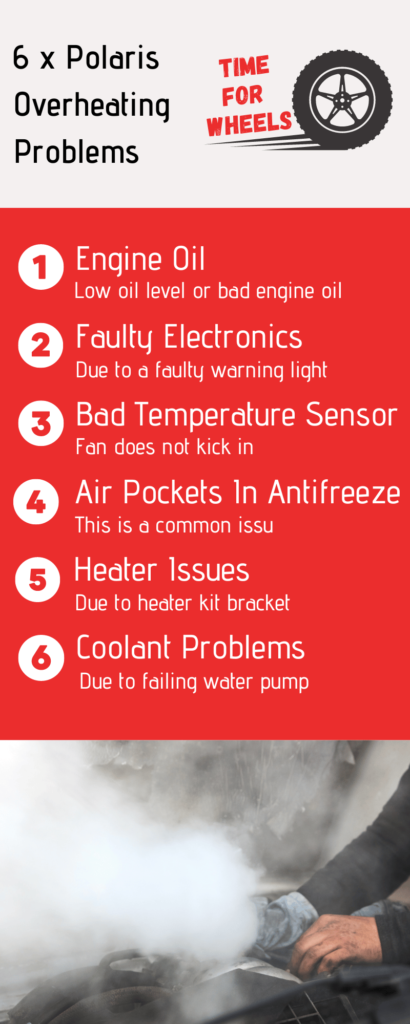 Join our free Facebook group and ask your question there. We promise you, you'll get an answer from one of our team members or group members. Join the group here!
1. Due To Engine Oil
If your machine is overheating, you should first find the problem, so you can then diagnose it. A good place to start would be engine oil. Bad or dirty engine oil is a problem that any Polaris can face. This will usually only result if you do not maintain your vehicle properly. So, this is not exactly a problem with the machine, but a problem with the maintenance. 
To test if your engine oil is the reason your vehicle is overheating first, take a sample of the engine oil in your vehicle and examine if it is polluted or has a dirty color to it. If so, it's likely you have bad engine oil. You can simply drain the engine oil and fill it back up with some new Polaris-recommended engine oil and your problem should be solved.
Dirty engine oil is bad, but low engine oil is even worse. Without adequate engine oil, it is only a matter of time before your engine seizes. To check your engine oil levels, you should remove your engine oil cap and insert a dipstick, this will indicate the oil level in your engine. 
Too much engine oil could also pose a threat. The dipstick has clear indications of how much engine oil you should have in your reservoir. Follow those markings and ensure that you have an adequate amount of clean engine oil.
2. Faulty Electronics – Sportsman
Sometimes, when you get an overheating warning on your dash, the problem might not be with the temperature at all. It is not unprecedented to have a faulty warning light. With all the debris and dirt accumulated in the machine by off-roading, it is quite possible that your electronics have gone haywire. In any case, cleaning out and checking your electrical equipment is not a bad idea.
Electronics gone bad are especially hard to handle, given that you need to find a professional who has the required knowledge to fix it accurately, or you'll be making the problem worse.  
Electrical problems are common, especially if you own a Polaris sportsman. The sportsman 700 and similar models are known to have electronics go haywire, often resulting in people rewiring it with aftermarket upgrades.
Other than that, there have been many mentions of the relays getting fried in the sportsman 850 version, which was recalled by Polaris. The cost to fix these Polaris electrical issues depends entirely on the severity of the problem.
3. Faulty Temperature Sensor – Sportsman
Your off-roader's temperature sensor is a critical asset that determines when your engine is too hot. It is there as a warning to indicate that your engine is running hot. And when it works properly, as your engine temperature spikes, your cooling fan would kick in.
A bad temperature sensor can effectively take out the cooling fan. The cooling fan usually kicks in only when the temperature reaches a certain point. But if you have a bad temperature sensor then that might never happen. Or sometimes, you could get a warning light in your dash when your engine temperatures are completely normal as well.
This electrical issue is also commonly seen in the Sportsman models of Polaris ATVs. The easiest way to test your temperature sensor is to take the sensor out entirely and test it with some hot water. The reading should be the same as any household thermometer. If it isn't, you might need to get a change. A temperature sensor also known as your vehicle's thermometer is easy to replace and usually only costs about $100.
4. Air Pockets In Antifreeze – RZR and XP models
This is a common issue that you most of the time cannot solve on your own as the fix is not DIY. 
If this were the reason why your engine is overheating, you should be able to get a few miles before your engine overheats suddenly. If this happens on your Polaris, your engine will also start to blow antifreeze once it overheats.
If you are driving one of the Polaris RZR or XP models, you should check this one out before the rest of the Polaris overheating problems. This problem is often reported by both Polaris RZR and Polaris XP owners.
To do the repair by yourself you first have to find yourself a good steep hill since the front end of your Polaris has to be as high as you can get it. Then take the radiator cap off and also make sure that the radiator cap is the highest point in the machine. And once you got your rig perfectly set up then you can bleed and refill the antifreeze making sure that you don't leave any air bubbles. But if you aren't in the right conditions to attempt this, then a mechanic or your local dealer is your best bet.
Again, this is not a repair that's going to cost a fortune. You should be able to get it done for $50 to $100.
5. Overheating Due To Heater – XP models
In the later XP models that Polaris released, there have been multiple complaints of overheating just a few hours into driving. This as most would suspect gets diagnosed by many mechanics and dealers as air trapped in the coolant. Although it could be just that, more often than not it isn't when it comes to the Polaris XP series.
The problem that causes overheating is with the new improvements to the inbuilt heater by the accessory department of Polaris. The problem seems to be that the new heater kit bracket at the thermostat messed with the fluid flow.
The problem although sounds pretty complicated, the solution is quite simple. All you or the mechanic working on your vehicle need to do is drill a couple of holes into the plate. And the fluid can circulate properly as it should.
6. Coolant Problems – Ranger and XP Models
There are a number of problems that can be caused in the cooling system which can make your Polaris overheat. But on the top of the list is the ever-failing water pump in Polaris UTVs, notably in the Polaris Ranger. The water pump circulates the coolant throughout the machine so obviously, a failing water pump will make your Polaris overheat pretty quickly.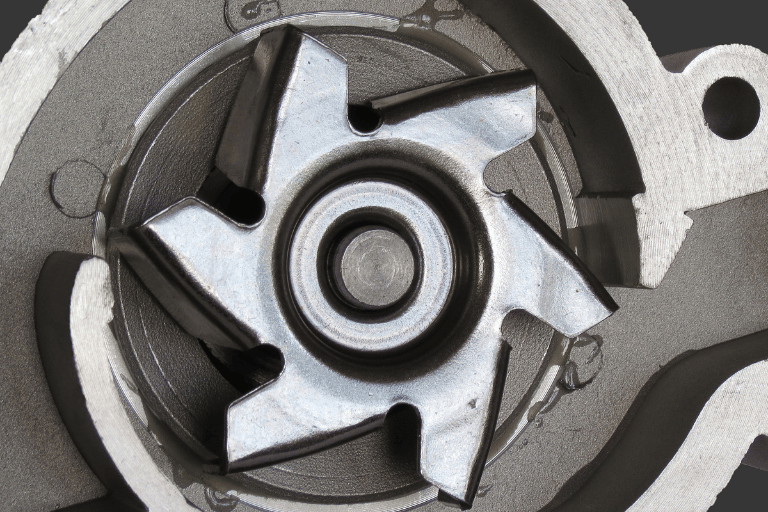 The part that usually fails is the impeller present in the water pump. Most commonly found in the Polaris Ranger models, this is an issue most Polaris Ranger and XP owners face. The impeller is usually pretty inexpensive, costing on average just about $50, and you can replace it yourself pretty easily. Sometimes, you might have a problem with the seal as well. Yet, is not a significant problem as it can be handled easily as well. 
But if you have to replace the entire water pump, it could set you back upwards of $300.
Conclusion 
Most of the time, when you are dealing with Polaris overheating issues, they can be easily diagnosed by yourself. But you will also encounter the occasional need for a true expert in the field. The first step is figuring the problem out, and then you can move on to fixing it. Polaris is known for having quite a few problems with overheating, but with some improvising, any Polaris owner should be able to manage just fine.