Polaris is the premium brand for ATVs and UTVs. This is mainly due to the design, quality and performance of the various models. The wide range of models means that there is always an option for you, such as the Polaris Ranger 1000 models. This excellent UTV offers good driving comfort and is capable of great performance. If you're looking for the top speed of this model, here's what you need to know:
The top speed of the Polaris Ranger 1000 models is electronically limited. The factory set top speed for the Ranger 1000, High Lifter and Premium is 55/58 mph. The top speed of the ranger XP 1000 is set at 65 mph. Earlier Crew models topped 57 mph, but the new Crew models are set at 65 mph.
These numbers have been collected through spec sheets as well as watching the many YouTube videos where the Polaris Ranger 1000 models are driven fast. This way, you can be sure we haven't just collected the theoretical data, but also checked how the Ranger 1000 models perform in practice.
Additionally, we'll give you 8 suggestions on how to ramp up your Polaris Ranger 1000 and increase the top speed, so read on!
Join our free Facebook group and ask your question there. We promise you, you'll get an answer from one of our team members or group members. Join the group here!
Top Speed Polaris Ranger 1000, 1000 XP, Crew, Premium, High Lifter
The Ranger 1000 is one of the popular models in the Polaris UTV range. Not only because of its engine, but also because of its functionality, quality and driver comfort.
The Polaris Ranger XP 1000 can accelerate from 0 to 60mph in 13.1 seconds and has an electronically limited top speed of 64 / 65 mph. The Ranger 1000 model has a top speed of 58 mph.
Earlier Ranger Crew models topped at 56/57 mph but the speed limiter in the 2020 and newer Ranger Crew models are at 65 mph, so even without any upgrades, something such as the stock 2021 Ranger Northstar Crew will do 65 mph. Stock Ranger 1000, Ranger 1000 Premium, and High Lifter top out around 55/58 mph.
Look at the next video about a speed test or the Ranger Crew 1000 with the factory settings.
Also read: How To Bypass The Polaris Speed Limiter?
Ranger 1000 Top Speed Compared To Other Polaris Models
Curious to see how fast the Ranger 1000 is compared to other Polaris Ranger models? The table below gives you a quick overview of the different top speeds. Keep in mind that these numbers are averages of the factory specs, as well as several speed tests, found on YouTube.
| Model | Top Speed (mph) |
| --- | --- |
| Ranger 1000 | 58 |
| Ranger 500 | 44 |
| Ranger 570 | 50 |
| Ranger 800 | 40 |
| Ranger 900 | 50 |
| Ranger XP1000 | 65 |
| Ranger Kinetic/EV | 60 |
| Ranger Diesel | 40 |
| Ranger 150/200 | 15 – 30 |
| Polaris General XP 1000 | 70 |
| RZR Trail 570 | 70 |
As you can see, the Polaris Ranger models vary in top speed. The top speed of the Rangers is factory set, but there are several things you can do to boost your engine. You can read more about this later in this blog.
How To Make Your Ranger 1000 Faster?
By ramping up the engine and engine related parts, the Polaris Ranger 1000 will definitely reach a higher top speed. However, keep in mind that the UTV is not designed for this, which can cause more wear and tear, resulting in more frequent maintenance.
If you still have a factory warranty on your Ranger 1000, I advise against ramping it up. Introducing changes to your Polaris could void the warranty, meaning if you run into any major issues, you'll likely have to pay for those yourself. So, first check your warranty before you make the alterations.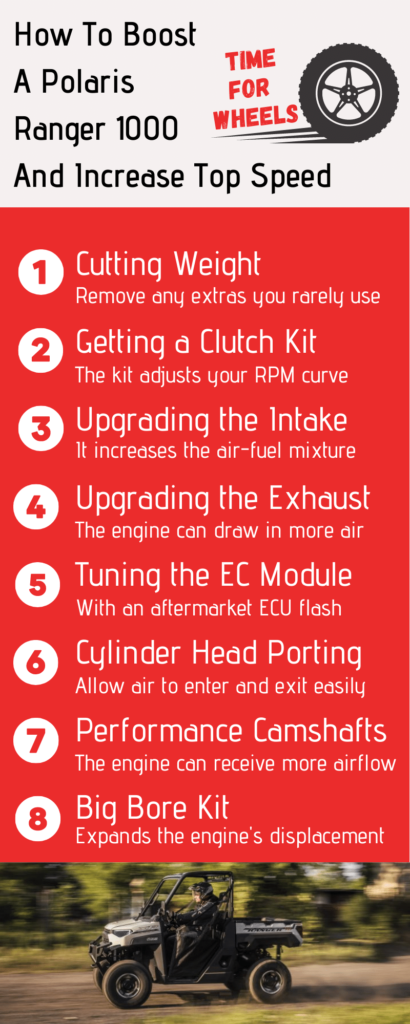 There are several ways to make the Polaris Ranger go 1000 faster, (but remember, this is at your own risk) including:
Also read: 5 x Most Common Polaris Ranger 1000 Problems!
1. Cutting Unnecessary Weight
Consider deploying lightweight Polaris Ranger tires because they are more suitable for high-speed applications. The weight of your Ranger has a bearing on its speed, so using large Polaris Ranger mud tires will reduce its top speed. Thus, smooth radial tires made for on-road riding are your best choice if you ride on paved roads and want to boost the speed of your Polaris Ranger.
You can also decrease the weight of your UTV by storing less petrol in the gas tank. Additionally, you can increase the top speed of your UTV by removing any Polaris Ranger extras you rarely use.
2. Getting a Clutch Kit
The best approach to increase the top speed and acceleration of your Polaris Ranger is to install an aftermarket clutch assembly. The kit adjusts your RPM curve to maximize maximum power, and the right upgrade will boost your top speed and acceleration. Usually, the clutch kit includes new springs and weights that modify the timing and speed of the clutch's self-adjustment.
Several variables affect the speed and point where it adapts. Thus, clutch kits are highly customizable to engine modifications, riding circumstances, and riding style.
Using a clutch kit can lead to the following gains:
Increased top speed, torque, and power
Better acceleration and throttle response
Less power loss from paddle tires, mud tires, or larger dirt tires
Less belt slippage and heat buildup, resulting in longer belt life
Many owners' initial aftermarket improvements to their Polaris Ranger are clutch kits. They are so good that ranger owners prioritize them over accessories such as roofs, winches, and windshields. Manufacturers like Gilomen Innovations, High Lifter, RVS Performance, and SuperATV offer some of the best clutch replacement parts, rebuild kits, and upgrade kits for Polaris Ranger vehicles.
Any of these clutch kits, clutch tuners, clutch parts, and aftermarket Polaris Ranger belts can help you accelerate more quickly and travel at higher speeds. Additionally, Ranger vehicle owners with track systems or huge tires often replace their clutches to return the speed of their vehicles to practically factory levels. Furthermore, it enhances shifting engagements. Ranger 1000 clutch kits cost around $449.00.
See the next video of the top speed of the Ranger 1000 with a Gilomen Clutch Kit.
3. Upgrading the Intake
It's crucial to inspect and clean your air filter regularly. A blocked or dirty air filter will constrain the airflow to the engine. If the air filter obstructs the airflow, the engine of your Ranger will choke or smother while you are moving. An intake upgrade is the simplest way to improve your machine's performance.
It increases the air-fuel mixture that enters the chamber, increasing power. Thus, consider fitting a high-flow air filter to enhance engine airflow. K&N is well established and among the leading producers of air filters for use in any Powersports or automotive application. The starting price for K&N high-flow air filters is about $39.99.
4. Upgrading the Exhaust
Upgrading the exhaust system can increase the performance of your Polaris Ranger. Because it can exhaust more, the engine can draw in more air. The modification works best when coupled with a high-flow air intake system. If replacing the exhaust system from the headers down is not an option, a performance slip-on exhaust is a great alternative.
The slip-on muffler is the most widely used technique, since it enables you to replace your factory exhaust with a typically lighter one. Additionally, these systems have cores for more exhaust flow rates compared to the stock systems' comparatively baffled ones. The highest output is produced by a full-performance exhaust system, while a performance slip-on exhaust also makes more power than stock.
Your vehicle will get noisier because of aftermarket exhausts, so it's crucial to be sure the system you buy doesn't violate any local noise ordinances. The exhaust manufacturer should be able to provide you with the decibel measurement. HMF Polaris Ranger XP 1000 Slip-On Exhausts cost between $341.57 and $968.95.
Also read: 9 x Polaris Ranger 1000 (Performance) Upgrades!
5. Tuning the Engine Control Module
The Ranger XP 1000 can hit speeds of 70 – 80 mph if you disable the speed limiter with an aftermarket ECU flash. And these speeds are achievable with bigger mud tires installed, although it might take a bit longer to get there. You have two speed increase options: installing an ECU tuner on your Polaris Ranger 1000, so you can make the necessary modifications, or sending your Ranger's ECU in to be reflashed. Plugging an ECU tuner into your UTV's electrical system allows you to change items like the rpm limitation and speed limiter.
Some adjust the radiator fan's on/off temperature to keep the engine cool. A tuner can also modify the fuel curve and ignition timing to change the amount of fuel delivered at various RPMs and advance the timing. This can significantly enhance throttle response and acceleration. With an ECU tuner, 91 or higher octane is typically necessary, particularly if the timing curve is modified.
Also, ensure your performance switch is connected and that your Ranger is running in performance mode if it feels sluggish. When in low or four-wheel drive, many drivers mistakenly assume their Ranger is moving too slowly and complain about it. Furthermore, you can increase your rig's top speed in many ways.
You can disable the seat belt safety features in the ECU or the plug itself, or you can make sure your seat belt is plugged in, and the seat belt sensors are functioning. A professional tune-up is around $400.
6. Cylinder Head Porting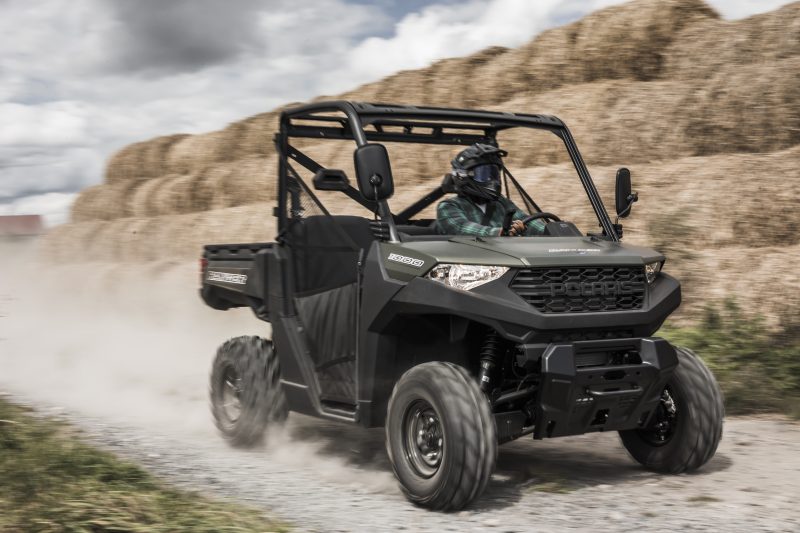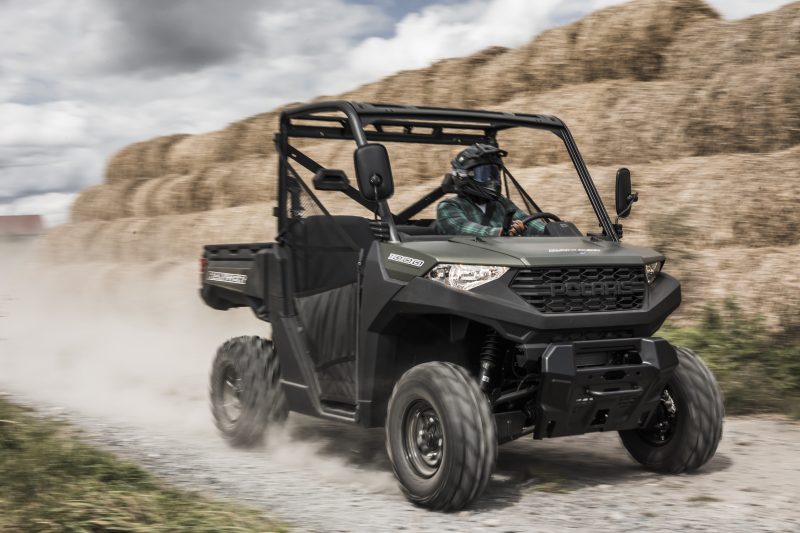 You send your cylinder head to a firm for this modification, after which they return it to you. Porting a cylinder head involves polishing or grinding the ports that allow air to enter and exit more easily. The engine can produce greater power if air enters and exits the combustion chamber more easily.
An experienced technician should perform the port operation, since excessive grinding or grinding in the wrong places might cause the engine to run poorly or damage the head.
7. Camshafts
Performance camshafts operate by adjusting the lift and duration of the cylinder head valves. Consequently, the engine can receive more airflow. Cams are effective when paired with other engine modifications like clutch kits, performance exhausts, tuners, and cylinder head machining. Many camshafts come in stages like stage 1, stage 2, and stage 3.
The stage shows the aggressiveness or power boost it offers. A stage 1 cam will be mild and increase power in the lower end of the rpm range, whereas a stage 3 cam boosts power at the high end. Stage 2 would be in the center. Stage 3 is ideal for racing or high-revving applications.
8. Big Bore Kit
A big bore kit expands the engine's displacement by enlarging the cylinder bore and employing bigger pistons. With most larger bore kits, you will need to replace the piston and cylinder with larger sizes. Thus, you are essentially expanding the cubic capacity of your engine. This enhancement complements internal engine upgrades like cylinder porting and a performance cam well.
Installing a big bore kit may result in a significant performance improvement. The acceleration speed will increase along with the top speed. Because more air and fuel mixture flows into the combustion chamber, your Ranger 1000 will experience a substantial performance improvement. Polaris Ranger 1000 big bore cylinder kits cost around $1,076.36.
Featured image: Polaris ORV Media
Recent Posts