Driving fast with your Polaris Ranger 570 is fun to do, but you feel like the Ranger 570 can go even faster. You also want to improve the acceleration, but is that possible? Can you do that yourself? Yes, there are several things you can do to increase top speed and improve acceleration. But first, what is the top speed of the Polaris Ranger 570? Here's what you need to know:
The Polaris Ranger 570 has a factory set top speed of 50 mph and the acceleration from 0 – 60 mph is 15 seconds.
These numbers have been collected through spec sheets as well as watching the many YouTube videos where the Polaris Ranger 570 is driven fast. This way, you can be sure we haven't just collected the theoretical data, but also checked how the Ranger 570 performs in practice.
Additionally, we'll give you 6 suggestions on how to ramp up your Polaris Ranger 570 and increase the top speed, so read on!
Join our free Facebook group and ask your question there. We promise you, you'll get an answer from one of our team members or group members. Join the group here!
Top Speed Polaris Ranger 570 (Crew)
The Ranger 570 is one of the popular models in the Polaris UTV range. Not only because of its engine, but also because of its functionality, quality and driver comfort.
In 2014, the Polaris Ranger 570 was introduced and replaced de Ranger 500. Although they still produced the 500 for one year. The Ranger 570 has a cylinder displacement of 567cc and delivers 44 hp. The Polaris Ranger 570 (and Crew) top speed is factory set at 50 mph, but some have gone faster, attaining 60 mph. The acceleration from 0 – 60 mph is 15 seconds.
See the video below for a top speed test!
Also read: How To Bypass The Polaris Speed Limiter?
Ranger 570 Top Speed Compared To Other Polaris Models
Curious to see how fast the Ranger 570 is compared to other Polaris Ranger models? The table below gives you a quick overview of the different top speeds. Keep in mind that these numbers are averages of the factory specs, as well as several speed tests, found on YouTube.
| Model | Top Speed (mph) |
| --- | --- |
| Ranger 570 | 50 |
| Ranger 500 | 35.5 |
| Ranger 800 | 40 |
| Ranger 900 | 50 |
| Ranger XP1000 | 65 |
| Ranger Kinetic/EV | 60 |
| Ranger Diesel | 40 |
| Ranger 150/200 | 15 – 30 |
| Polaris General XP 1000 | 70 |
| RZR Trail 570 | 70 |
As you can see, the Polaris Ranger models vary in top speed. The top speed of the Rangers is factory set, but there are several things you can do to boost your engine. You can read more about this later in this blog.
Also read: 12 x Best Polaris Ranger 570 (Performance) Upgrades!
How Fast Is The Ranger 570 Compared To Other UTVs?
Let's also compare the Polaris Ranger 570 to its competition. Keep in mind that the top speeds of these models are taken from the standard version, the special versions are not listed in the table.
These speeds also come from the technical specifications and various YouTube videos, and are average top speeds.
| Model | Top Speed (mph) |
| --- | --- |
| Polaris Ranger 570 | 50 |
| Can Am Defender | 62 |
| Honda Pioneer 520 | 37 |
| Yamaha viking | 56 |
| Kawasaki mule pro mx | 40 |
The Can Am Defender has the highest top speed of these models, 63 mph. The Honda Pioneer and the Kawasaki Mule Pro MX have a significantly lower top speed, 37 and 40 mph respectively.
Also read: 5 x Most Common Polaris Ranger 570 Problems!
How To Make Your Ranger 570 Faster?
By ramping up the engine and engine related parts, the Polaris Ranger 570 will definitely reach a higher top speed. However, keep in mind that the UTV is not designed for this, which can cause more wear and tear, resulting in more frequent maintenance.
If you still have factory warranty on your Ranger 570, I advise against ramping it up. Making changes to your Polaris could void the warranty, meaning if you run into any major issues, you'll likely have to pay for those yourself. So, first check your warranty before you make the alterations.
Many people are unaware of how severely de-tuned the Polaris Ranger models are out of the factory. The default engine control setting can only allow the Ranger and Crew 570 vehicles to reach top speeds of 45 to 50 mph. After a tune-up, top speeds can approach 60 mph.
There are several ways to make the Polaris Ranger 570 faster, (but remember, this is at your own risk) including: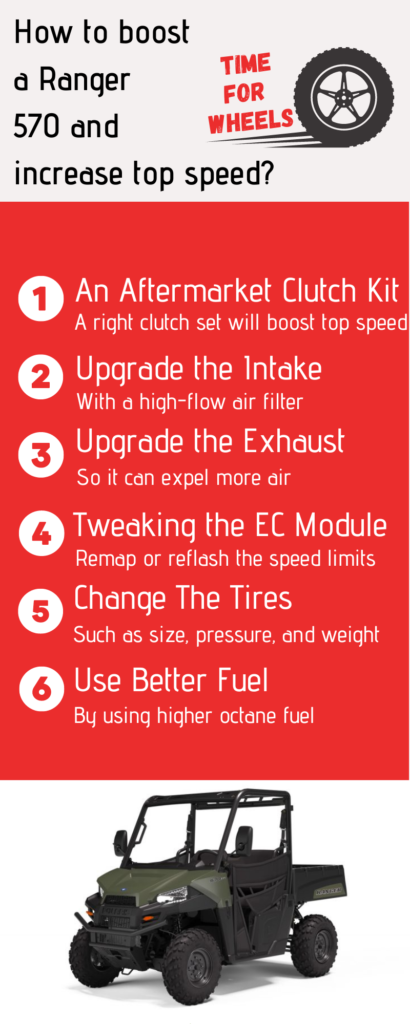 1. Install an Aftermarket Clutch Kit
Clutch kits for Polaris Ranger are the first aftermarket modifications that many owners make to their Rangers. They come before accessories like windshields, winches, and roofs; they are that good. Installing an aftermarket clutch assembly is the best way to boost your Polaris Ranger's top speed and achieve better acceleration rates.
An excellent way to increase the performance of the engine of your UTV is with a clutch kit. A clutch kit adjusts your RPM curve to maximize maximum power when you depress the accelerator. So, the right clutch set will boost your top speed and acceleration.
The best clutch part replacements, clutch rebuilt kits, and clutch upgrades kits for the Polaris Ranger are available from manufacturers like Gilomen Innovations, High Lifter, RVS Performance, and SuperATV. You may accelerate more rapidly and reach higher speeds with one of these clutch kits, clutch tuners, clutch parts, and aftermarket Polaris Ranger belts.
Also, Polaris Ranger owners with track systems or large tires often upgrade their clutches to restore their vehicle's speed to nearly stock levels. In addition, it also improves shifting engagements and increases the total torque of the UTV. Ranger 570 clutch kits are available fromUS$324.99
2. Upgrade the Intake
It is essential to check and clean your air filter regularly. A clogged or dirty air filter constrains the quantity of air that can reach the engine. Your rig's engine will smother or choke while driving if the air filter is clogged. An intake upgrade offers the simplest approach to increasing your machine's performance.
It allows more air-fuel mixture into the chamber, which translates to a higher power. So, think about installing a high-flow air filter to improve the engine's airflow. K&N has been manufacturing some of the top air filters for use in any Powersports or automotive application for decades. K&N high-flow air filter prices start at around $39.99.
3. Upgrade the Exhaust
You could boost the performance of your Polaris Ranger by upgrading the exhaust. It enables the engine to draw in more air because it can exhaust more. The system performs best when combined with a high-flow air intake setup. A performance slip-on exhaust is an excellent substitute if you can't replace the exhaust system from the headers down.
The most popular method is the slip-on muffler because it lets you swap out your factory exhaust for a typically lighter one. Moreover, these systems have cores that enable far higher exhaust flow rates than the relatively baffled ones of the stock systems. While a performance slip-on exhaust produces extra power than stock, a full-performance exhaust system generates the highest output.
4. Tweaking the Engine Control Module
The Polaris Ranger will trail an RZR since it is factory-tuned to underperform. However, the Ranger/Crew 570 can reach speeds of more than 60 MPH if the speed limit is disabled with an aftermarket ECU flash. You have two options: either install an ECU tuner on your Full-size Polaris Ranger, so you can make the necessary modifications yourself, or send your Ranger's ECU in to be reflashed.
Also, if the UTV feels sluggish, verify your performance switch is hooked in and that you are operating your Ranger in performance mode. Many drivers complain or incorrectly believe their Ranger is moving excessively slowly when, in fact, they are simply in low or four-wheel drive.
Furthermore, you can help you raise the top speed of your rig in several ways. These include having your seat belt plugged in and ensure the seat belt sensors are working, or disabling the seat belt safety features entirely in the ECU or in the plug itself. A professional tune-up can cost $400.
5. Use the Appropriate Tire
The Ranger will travel faster the lighter it is. So lightweight Polaris Ranger tires are more appropriate for high-speed applications. The maximum speed of your side-by-side will be constrained if you are using large Polaris Ranger mud tires. So, if you travel on paved roads and want to increase the peak speed of your Polaris Ranger, smooth radial tires designed for on-road riding are your best option.
But in addition to fitting lighter tires, you may also lighten the load on your UTV by stocking less fuel in the gas tank. Also, removing any bulky Polaris Ranger accessories from your UTV that you hardly ever use can help to raise its top speed.
6. Use Better Fuel
An easy and quick increase in the speed of your Ranger 570 is by using higher octane fuel. The higher-octane fuel can help boost the performance of your engine. The fuel burns cleaner, improving your fuel economy and reducing corrosion of the mechanical components of your fuel system. You will notice the performance differences, even though the better mileage isn't particularly visible. You will pay a little bit more for it than the cheap fuel, but you will appreciate the difference when you slam on the gas.
Some riders decide to increase the octane level in their fuel themselves because they desire an even bigger boost than what is available at a gas station. You can simply add a small amount of the gas in your Ranger 570 and rock it back and forth to mix it up a little. You can pre-mix it in a gas can before adding it to the gas tank to ensure that your measurements are accurate.
Featured image: Polaris ORV Media
Recent Posts