There are a few different ways that you can upgrade your Polaris Ranger 570. Some people like to add more power, while others prefer to focus on improving the already impressive suspension. No matter what your priorities are, there are a few must-have upgrades that will make your Ranger 570 even better.
One of the best things you can do for your Ranger is to install a quality set of shocks. This will not only improve the ride quality, but it will also help you keep control when driving over rough terrain.
Another great upgrade is a set of bigger tires. This will give you more ground clearance and allow you to tackle tougher trails easily.
In this article, we are going to take a look at the best Polaris Ranger 570 upgrades that you can make. We will discuss the options available and tell you which ones are the best for your particular vehicle.
Join our free Facebook group and ask your question there. We promise you, you'll get an answer from one of our team members or group members. Join the group here!
1. Polaris Ranger 570 Battery Upgrade
In winter, Polaris' original battery equipment doesn't work very well. It often won't start in the cold, or it will only work for a short time. So if your battery dies in the middle of a ride, it's not surprising. It's quite common with Polaris Ranger users.
The reason for it is Polaris starters aren't top-notch. You have to use a lot of cranking amps to get these cheap starters to crank the engine, especially in extreme cold.
If you want to upgrade your Polaris Ranger battery, Odyssey batteries are a great option.
According to a few Polaris Ranger 570 drivers, Odyssey PC925 has more than 10 years of life.
The price is a bit higher (around $200), but the quality is exceptional. You can't go wrong with the Odyssey PC925.
To fix an Odyssey battery in your Ranger, you will need to adjust the battery mount, as the space is very limited.
Also read: 5 x Most Common Polaris Ranger 570 Problems!
2. Polaris Ranger 570 Shock Upgrade
Oftentimes, ATVs are meant to be run on uneven terrain. Therefore, the shocks wear out faster, so you need to change them out more often. Additionally, the shocks may not be as effective on an ATV as they are on a car. This is due to the fact that an ATV is constantly bouncing around, which can cause the shocks to wear out faster.
Shocks are expensive to replace. If you own a Polaris Ranger 570 and want an upgrade under $300, you can buy a set of sport quad shocks for a LTR450 in good condition on eBay website. These shocks will give you a much smoother ride and better handling.
On the other hand, bandit series 46 shocks are recommended for a more improved ride. These shocks offer a perfect balance of comfort and handling at the expense of more than $1000.
Bandit series shocks can be used as a replacement for the OE shocks or installed as an upgrade to improve your vehicle's ride quality and performance. The bandit series shocks are designed for street performance applications, but can also be used on the track or off-road.
They are built in-house according to the setup information you provide during checkout. They also come with a 3-month manufacturer defect warranty and a 1-year structural warranty.
You can also install Ranger 900 shocks on your 570 vehicles if no specific shock options are available.
Also read: Polaris UTV Reliability, Check Your Model Here!
3. Polaris Ranger 570 Clutch Upgrade
You will need a better clutch kit for your Ranger 570 if you are going to take on a lot of large hills or ride in deep mud. Ranger users who use large tires need more clutch power than those who stick to smaller tires. If you are going to upgrade your tire size, consider switching out the clutch kit as well.
Installing a Ranger 570 clutch kit is not difficult and does not require any special skills or tools. The average do-it-yourselfer can complete this project in about two hours or less.
The best clutch kit for the Ranger 570 is the EPI Sports Utility Clutch Kit. The price of this kit is around $340. It has everything you need to prepare your Ranger for serious mud riding.
Although the sports utility clutch kit is designed for Sportsman models, it fits well with Ranger too.
The belt included in the kit is a high-performance belt that can handle higher temperatures and stresses. This makes it ideal for use in hot weather or when you are riding hard.
Overall, the sports utility clutch kit is an excellent choice for those who want to improve their machine performance. It is easy to install and comes with everything you need to get the job done right.
4. Polaris Ranger 570 Exhaust Upgrade
The exhaust on the Ranger 570 is considerably louder. If you're feeling so, you're not the only one.
The loudness of the exhaust will also vary from vehicle to vehicle. Some ATVs have a louder exhaust than others.
If you're looking to upgrade your Polaris Ranger 570, one of the best places to start is with the exhaust. A new exhaust can really breathe new life into your vehicle, and it's a relatively simple upgrade to make.
When selecting an aftermarket exhaust for your Polaris Ranger, it's important to consider what you want. An aftermarket exhaust system can increase horsepower and torque, improve the sound of your engine, and also give your Ranger a better look.
Aftermarket exhaust systems are available in both bolt-on and weld-on designs. Bolt-on systems are usually less expensive and easier to install than weld-on systems, but they may not offer as much power gain as weld-on systems.
Weld-on systems are more expensive and require more installation time, but they offer the best power gains. When choosing an aftermarket exhaust for your Polaris Ranger, it's important to consider your budget and installation time constraints.
To upgrade your Ranger exhaust to make it quieter, try this Stealth Exhaust 2.0 System. It's easy to install on your Ranger 570 and can also work with other ATV models.
In around $160, the exhaust system comes with everything you need to install it. Thus, creating eliminating noise off your journey without breaking the bank.
5. Polaris Ranger 570 ECU Tuning Upgrade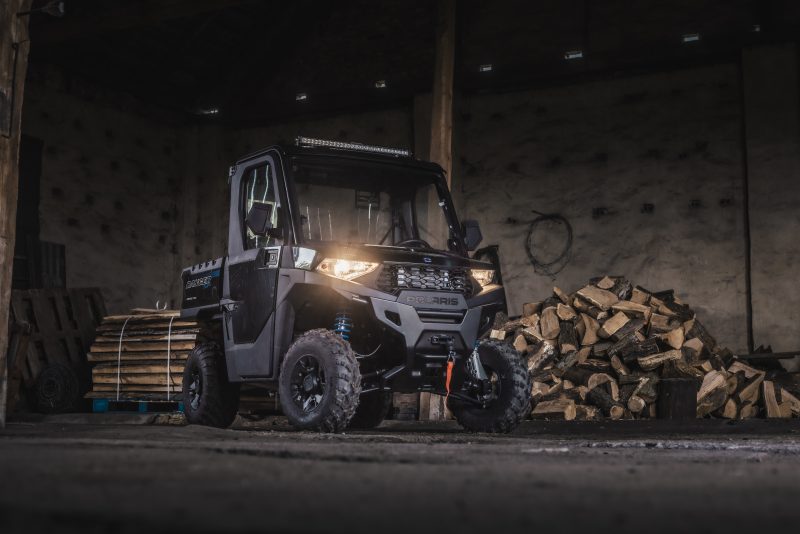 The Polaris Ranger 570 ECU upgrade is a great way to optimize engine performance. An upgraded ECU tuning will give your vehicle more horsepower, RPMs, and a better throttle response.
Most people who upgrade their ECU do so because they want more power and performance from their engine. If you are looking for a way to get more out of your engine, then upgrading the ECU is a great place to start.
Gilomen Innovations offer the best performance ECU tuning for Polaris Ranger 570. It comes with primary clutch weights and a new primary spring. The instruction manual is clear and comes with a Torx 1/2" drive socket to remove the primary bolt.
Polaris ranger models come with reduced power from the factory. The stock ECU only allows for 45-50mph top speed, depending on the model. While with this tune, top speeds can exceed 60mph.
Here's what a customer has to say about Gilomen ECU tuning:
I have the Gillomen tune flashed onto my OEM ECU on our 2019 900xp, and it is a huge difference in power and speed, installed along with their clutch kit for smoother take off at low speed. Absolutely would do it again. Not sure how much of an improvement it will make on the 570, but it removes all stock torque limiters, which is a huge boost in lower speed throttle response and available power.
A brand-new ECU tuning will cost $400.
6. Polaris Ranger 570 Air Filter Upgrade
The Polaris Ranger 570 is a great machine, but one of its few drawbacks is the air filter. The stock air filter does a decent job of keeping out the dust and dirt, but it's not the best. There are many aftermarket air filters available that will do a better job of keeping your engine clean.
The factory air filter in your Polaris vehicle can cause many problems if it's not working properly. Eliminating those problems should be one of your first priorities.
When purchasing an air filter for your Polaris Ranger 570, you need to consider the size of the engine, the driving environment, and the frequency of use.
The size of the engine is important because a larger engine will require a more powerful air filter. The driving environment is important because a dusty or muddy environment will require a more durable air filter. The frequency of use is important because a more frequently used ATV will require a more durable air filter.
Many Polaris Ranger drivers love R2C Performance's air filters for aftermarket replacement. They are much better than OEM filters in terms of fractional efficiency. They also have 47% more dust-holding capacity than stock filters.
7. Polaris Ranger 570 Lift Kit Upgrade
If you're looking to give your Polaris Ranger 570 a little boost, consider upgrading to a lift kit. This will improve not only its looks, but also its performance. With a lift kit, your Ranger will be able to clear obstacles more easily and get better traction in off-road conditions. Plus, it'll just look really cool.
Ranger 570 is designed to hit the off-roads, but with a lift kit, you can take your riding to a whole other level. With a lift kit, you will have increased ground clearance, allow for bigger tires, and improved overall off-road performance.
Installing a lift kit on your Polaris ATV will change the geometry of your vehicle's suspension system. This means that it may require some trial and error to find the sweet spot in terms of ride height and suspension tuning. It is important to make sure that your new lift kit works well with your existing suspension components before you install it.
Try Highlifter's Lift Kit for Polaris Ranger 570. The kit includes all installation hardware included detailed step-by-step photo instructions — All of it in just $197.95.
8. Polaris Ranger 570 Power Steering Upgrade
A Power Steering Upgrade is a great addition to any Ranger 570. It makes steering easier and more responsive, especially when driving in rough or off-road conditions.
The upgrade is simple to install and comes with all the necessary hardware. It's a great way to improve the performance of your Ranger 570 and make driving more enjoyable.
While driving on uneven terrains, you don't want to put extra steering effort on your Polaris. An advanced aftermarket power steering kit can help you make steering effortless, even on the toughest terrains. With a power steering kit installed, you will be able to steer your vehicle smoothly on any terrain without tiring out your arms and shoulders.
Whether you are driving on soft snow or uneven turf, you will notice the difference immediately. Your vehicle will become easier to control and handle, providing you with safe and enjoyable off-roading sessions.
The EZ-STEER power steering kit for the Polaris Ranger Midsize is the most technologically advanced kit available. The cost is a bit expensive, i.e., $674.95, but its everyone's favorite when it comes to performance. However, you would need a whole day for its installation.
9. Polaris Ranger 570 Fuel Pump Upgrade
Polaris Ranger 570 fuel pump upgrade kits are available to help improve the performance of your vehicle. These upgrades can help increase the flow of fuel to your engine, which can improve acceleration and power.
An aftermarket fuel pump on your Ranger 570 will deliver the high volume of fuel that is required by your engine. The pump can supply either a constant flow or an intermittent flow, depending on what you need. Your Ranger's engine will receive the correct amount of fuel at all times with an aftermarket fuel pump, ensuring that it will run smoothly and efficiently.
High Flow Fuel's fuel pump assembly is ideal for Ranger 570 vehicles. There are very few fuel pumps with lifetime warranties, but it's one of them.
It has a high flow rate and will deliver the necessary amount of fuel for your engine to run at its peak performance. This pump is durable and will provide years of trouble-free service.
The price is around $170.
10. Polaris Ranger 570 Tires Upgrade
You might need bigger tires for your Ranger 570 if you drive it in deep sand or mud. Bigger tires can provide more traction and prevent the vehicle from getting stuck.
You might also need bigger tires if you frequently drive on rugged terrain or over obstacles. Bigger tires can help protect the underside of your Ranger 570 and prevent damage to the vehicle.
Replacing your Ranger OE tires (25″) with 27″ or bigger size will need a lift to make room for the tires. However, the new tires might just fit fine with the current lift. The size of the tire depends on the brand. Some brands have larger tires, while others have smaller ones.
You can also use 26x9x12 and 26x11x12, depending on your needs. Here's an image of 26″ mounting: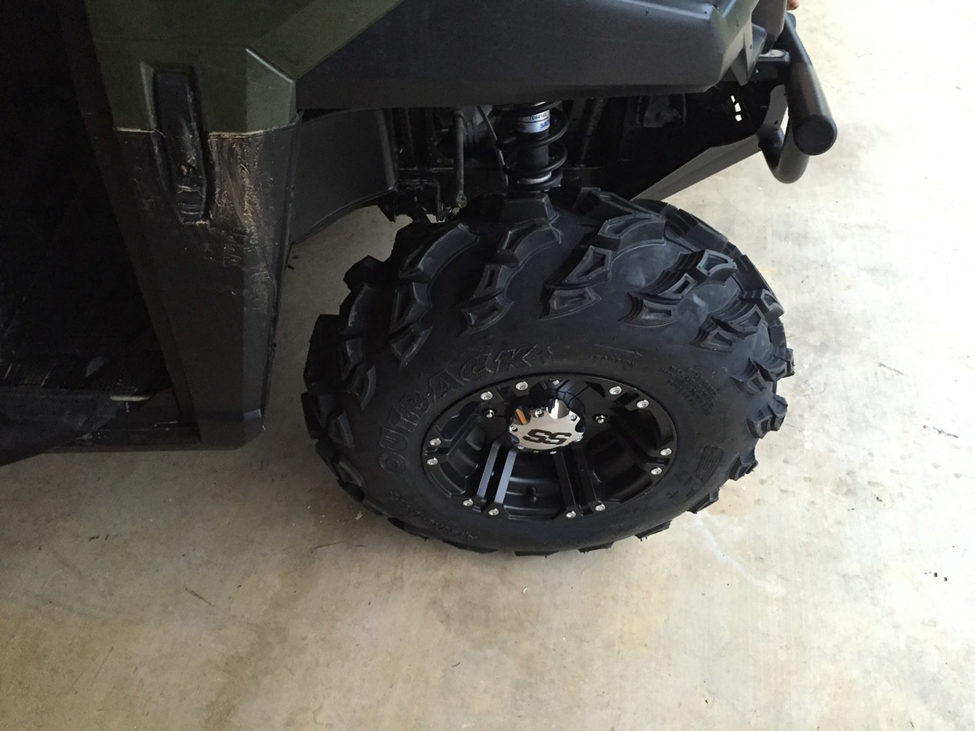 To adjust the power, you'll also need to upgrade your clutch if you plan to upgrade the size of your vehicle's tires — Not a must-do though.
Changing your tires might be one of the most expensive upgrades for Ranger 570 and will make a dent of around $1500 on your pocket. Do you know what's more expensive? Being in the middle of a desert with no emergency tools or spare parts. So, carrying a few extra tires and tools with you is highly advisable whenever you go off-roading.
11. Polaris Ranger 570 Headlight Upgrade
The problem with Ranger 570 headlights is that they aren't bright enough. They are good for driving around town, but not off-road or nighttime driving. The best way to increase the brightness of your Ranger 570 headlights is to upgrade to LED bulbs.
LED bulbs are much brighter than traditional halogen bulbs and give you better visibility when driving at night or in low-light conditions.
If you plan to go on night rides or drive through some hilly terrains, then your Ranger should have a good set of lights installed. This not only helps you see clearly at night, but also ensures that other road users can easily see your vehicle coming from a distance. There is no better way to do this than installing LED lights around your Ranger 570. The price range may differ depending on the type and brand
LED lights aren't just of a different color than halogen bulbs, but also draw less current from your vehicle's battery. They have a longer life than halogens (approximately 30000 working hours).
You can find LED headlight bulbs for the Ranger 570 online or at your local auto parts store. The lights will come in a pack of two with a price range of $30 to $50.
12. Polaris Ranger 570 Seat Upgrade
The Ranger 570 seat's foam gets pretty hard within a year and doesn't offer much support. Driving your Polaris vehicle with this seat can cause a sore back. Therefore, the seat needs to be replaced.
Unfortunately, there are fewer or no options available for Ranger 570 aftermarket seats.
If you can't find a new seat for your Ranger, you can install aftermarket bucket seats for a Yamaha Rhino or older Kawasaki Teryx. They will fit in your Polaris Ranger 570, but you'll have to make your own brackets.
The Rhino seats are available in a variety of colors and styles. There are many choices available on eBay.
Featured image: https://www.polaris-orv.media/