What kind of problems does a Polaris Ranger High Lifter normally have? In this blog, we've outlined all the most important things you should watch for when you're in the market for a Polaris High Lifter. In the rest of the article, we'll discuss every single problem in detail. Furthermore, we'll tell you how to identify it, fix it and how much it costs to fix. Read on!
Like any other vehicle, it has its issues! There are some problems with the differential splines and snorkel. The engine can overheat and there are problems with the reverse. Even with all these problems, the Ranger High lifter is still one of the best UTVs to take on muddy trails. If you are riding through water, do not forget the dielectric grease.
Let us look at some of the problems that you could encounter with the Polaris Ranger High Lifter. Furthermore, at the end of this, you will know how to perform required repairs and their costs
Also read: Polaris UTV Reliability, Check Your Model Here!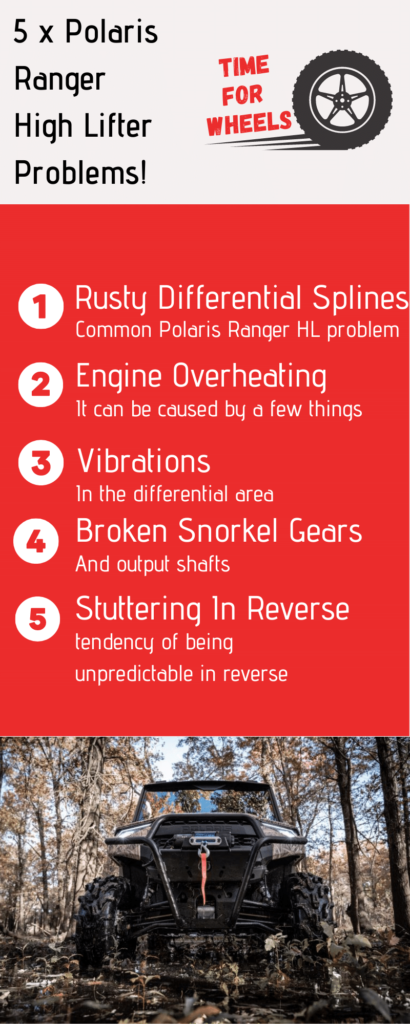 Join our free Facebook group and ask your question there. We promise you, you'll get an answer from one of our team members or group members. Join the group here!
1. Rusty Differential Splines
A common problem with the Polaris Ranger High Lifter is rust on the rear and front differential splines. Since high lifters are often used as mud riders, this accumulation of rust makes sense. Corrosion and rust make it difficult to remove the Polaris Ranger High Lifter's differential splines.
You could consider pulling the axle out and inserting an extension or long die in the back to get rid of the rusty splines, but that takes some work as you will have to take it all off and then put it back in. In some models of the high lifter, the splines are sealed, and it is impossible to do this.
A good way to deal with rusty UTV parts is to soak them in a PB blaster or a similar Polaris Ranger High Lifter cleaner.
They can definitely be stubborn and may need to be tapped and pulled with the basic Polaris Ranger hand tools. As for the rusty Polaris Ranger High Lift differential, you can apply a sliding hammer to the top of the lever and use it as a lever to remove the rusty parts.
Alternatively, you can take a ratchet strap and wrap it tightly around the differential cup and control lever to lift the lever up. The rope resists pressure when pulled down (essentially pulling on the cup), and get a friend to tap it with a sliding hammer. If all else fails, you can try the Kroil aerosol solution. Aerokroil products from Kano Laboratories.
These translucent oils are a little more expensive, but they brighten the oil, remove dried grease, dissolve sticky tar, and prevent rust.
2. Engine Overheating
Overheating is a serious problem in a high lifter it can be caused by a few things, a faulty thermostat, a broken radiator pump, a radiator crammed with mud, or the most common, the lack of ventilation or airflow through the radiator.
There is a simple DIY solution for this problem, and it's been done by some Polaris Highlifter owners.
"Mine has always run hot, I cut a bunch of slots in my radiator cover to get some heat out. My exhaust rotted out and I had to replace it, put on a fuel modifier and it helped a little with the heat."
But this again brings you back to the other problem of a mud-covered radiator.
Although a little mud isn't that bad, the high lifter isn't very accessible when it comes to repairs and cleaning. Although the solution may be as simple as just getting it cleaned up, sometimes if the case is more serious than that you might need to replace parts.
3. Vibrations In The Differential Area
You'd think that once you deal with the rust along the differential splines, you are good to go. But that's not all. The differential area of your Polaris Highlifter will constantly bombard you with problems. Of the major problems with the Polaris Ranger High Lifter front differential, vibration is one of the most serious.
Because the drive shaft is bent or out of phase, shakes, and vibrations often occur. An unstable Polaris Ranger High Lift drive shaft can cause the pinion bearing to rupture and damage the pinion seal. Even if you only feel vibrations in 4WD mode, the drive shaft may be the cause, as it can only apply load when the 4WD mode is active.
You can try replacing the thrust bearings, but if the vibrations persist, the driveshaft will need to be rebalanced or replaced.
Also read: Polaris Ranger 1000 Top Speed & Guide To Boost The Engine!
4. Broken Snorkel Gears And Output Shafts
Even if you are not the person who uses the Polaris Ranger High Lifter for extreme mud, it's not uncommon to see a snorkel or output shaft break when crossing light mud or rivers. This is especially true when reversing under heavy reverse torsional loads. As a rule, the causes of repeated component failures are usually the same.
When reassembling or replacing a transmission, studs are more likely to occur if the play between mating studs is out of tolerance and rubs against each other. If your gears are grinding together, some replacement parts can help. Drivers sometimes replace their output shafts and gearboxes with aftermarket options. After the conversion, they usually have no issues with their Polaris Ranger High Lift snorkel gear and output shafts after installing aftermarket additions.
5. Stuttering And Hesitation In Reverse
The High Lifter has the tendency of being unpredictable in reverse. Not only is this annoying for the driver, but also it has the potential to cause possible injuries. For this problem, the Polaris High Lifter factory gear reduction is to blame.
If you are searching for a quick fix, an aftermarket clutch kit would be your best bet. A durable aftermarket clutch kit will set you back about $1000, but it is worth it. Installing a clutch kit also allows you to take rein in the full power of the high Lifter by removing the speed limiters. The handling is also improved greatly by these small clutch kits and with the additional boost in power, they give you can even try larger tires.