Polaris is a pioneer when it comes to off-road vehicles such as ATVs and UTVs. They have a massive client base, and they do have a successful lineup to back that up. Even with all this success, you cannot overlook the fact that the company has been plagued by Polaris Ride Command Problems for a long time.
The main Polaris Ride Command problem is with the sound. Even with the extra speakers on the doors, you don't get a loud enough audio. The best way to solve this is to add an aftermarket amp and a subwoofer. The GPS antenna is also known to fail from time to time. Replacing it is quite cheap and easy. The rearview camera is also an easy fix.
Also read: What Is Polaris Ride Command And Is It Helpful?
Due to this issue, some models are more consistently affected than others.  Let us look at some of the problems that you could encounter with the Ride Command on your Polaris. Furthermore, at the end of this, you will know how to perform required repairs/updates and their costs.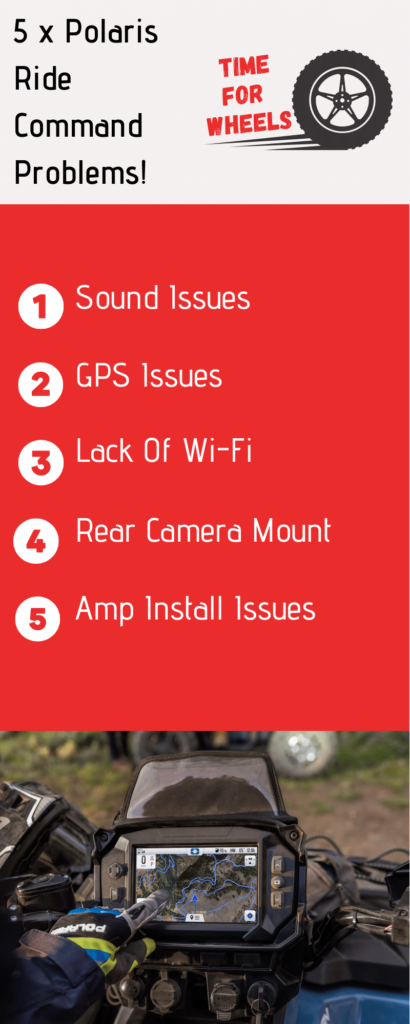 Join our free Facebook group and ask your question there. We promise you, you'll get an answer from one of our team members or group members. Join the group here!
1. Sound Issues
The Polaris Ride Command connects to the onboard audio system. This feature is useless unless the sound quality is good. But according to customer reviews, the audio quality is not up to par.
Here's what one owner had to say about the sound quality,
"One more thing, do not buy the ride command for the sound system. Very poor sound. I am also open to bigger speakers, amps, and subs that can be added to ride command."
One of the main reasons that buyers lean toward the Polaris Ride Command model is the sound system. In some Polaris models, the Ride Command includes additional speakers on doors. It can be disappointing when the sound quality is not what you hoped for.
Fortunately, there are ways to deal with this. If you can spend some extra bucks, you can get an aftermarket amp and subwoofer.  This would enhance the sound quality, allowing us to make full use of the onboard Ride Command.
Aftermarket sound systems can vary in price. There are options that cost more than $4000. But if you are on a tight budget, you should be able to get your sound enhanced for about $500. It won't be as good as a 4-figure sound system, but it will do.
If you are not a huge music enthusiast, you might not want to spend a lot on aftermarket speakers. If so, you can still manage by adjusting your audio so that it comes from the front and not from the speakers on the door. This helps a lot with the volume issue.
Also read: Is Polaris Ride Command Worth The Money? Let's Find Out!
2. GPS Issues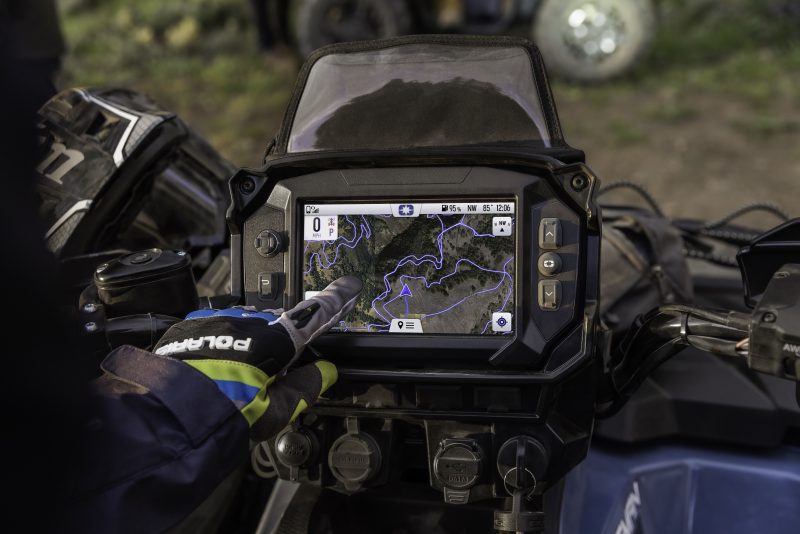 For the Ride Command on your Polaris to work, the GPS unit in your rig should be working. If you are using the app, the Ride Command will harness the GPS in your cell phone. As a result, there is a GPS mounted on your Polaris.
Without the GPS, or if the GPS is not functioning, the Polaris Ride Command will not be able to track you. This is what a Polaris owner had to say about the GPS,
"I brought it home and for the GPS it still shows it is in Oklahoma. On the screen, it says locating and keeps trying to load, but never does. I've done everything I can think of to try to get it to work."
This is an issue faced by an owner of a brand new Polaris General.
In this case, it seems that either the GPS antenna was not installed on the Polaris, or the GPS unit was malfunctioning. First, check whether the GPS tracker is there on your Polaris. It is a small round black puck, which can be found under the hood. If you find it, make sure that the unit is facing the right way up. This might get your Ride Command GPS working.
If not, another option is to reboot the Ride Command. You can use the onboard screen to reboot it. This would clear any errors in the system, which might get your GPS back online.
Even if your GPS works, with time it might malfunction. Especially, if you ride in wet conditions or through mud often. Your Ride Command won't be able to track your entire ride. If you notice that there are straight lines on the trail you rode in, chances are that the GPS antenna wasn't working properly.
You can purchase a replacement GPS antenna if it fails or wasn't there in the first place. It costs just under $200.
Also read: Does Polaris Ride Command Work Without A Cell Service?
3. Lack Of Wi-Fi
A customer says,
"I just got my 2022 Ultimate, and I have been trying to connect to the internet with no luck. It will not pick up my mobile hot spot on my phone."
Not all Polaris models with Ride Command also have Wi-Fi capabilities in them. But without it, using your Ride Command will be hard. You need to upload maps onto your Ride Command before taking your rig out. You can either download the maps onto a flash drive and upload them onto the ride command, or use Bluetooth to transfer files from your mobile.
All it takes to add Wi-Fi onto your Ride Command is a small electronic chip. These are a bit costly to manufacture. So, if you want Wi-Fi on your Polaris Ride Command, you need to pay more money.
Unless you pay for it upfront, you can't get Wi-Fi on your Polaris Ride Command. Without Wi-Fi, the capabilities of Ride Command will be limited.
4. Rear Camera Mount
The rear camera is a useful feature when backing up. As per many owners, the Polaris Ride Command rearview camera seems to look straight down. So, you don't get a clear view of the area you'd be backing into.
"Also, the rear camera just shows my hitch mount and bumper. I need to see if I am backing into a tree or off a cliff!"
The problem with the rearview camera is that it looks straight down. For it to give a good view of the rear, it has to be angled upwards slightly. Polaris hasn't offered a solution to this problem. Owners are either making their own brackets or relocating the rearview camera entirely, to make use of the camera. 
Some are even using DIY methods to get the camera angle just right. Though this won't look good, it is certainly effective.
"I solved the rear camera issue by making a shim out of wood and tilting the camera. With my Polaris OEM rear bumper, I now have a good view.

Anything you can wedge under the camera to give it a slight lift should do the trick. But if it is not firmly attached in there, it could fall off when off-roading. If you rely on your rearview camera often, we recommend that you get a bracket made for it or move the camera to another position.
5. Amp Install Issues
Remember we talked about sound issues in the Polaris Ride Command? The best way to solve the issue is by installing an aftermarket amplifier. But that leads to another problem.
The output voltage of the Polaris Ride Command is very low. So, even if you connect an amplifier, you need to turn the amplifier gains all the way up, to compensate for the low voltage. Even then, the output is very minimal. With a low voltage flowing through the amp, you might not get the crisp audio quality you were looking for.
Thankfully, there are some manufacturers who put out amp units specifically made for the Polaris Ride Command head unit. These amplifiers are more suitable for low voltage output.
If not, you can get an aftermarket source unit. This basically a downsized car stereo adapted for the trail. So, you can ride through, water, mud, or any other environmental conditions without damaging the source unit. They could cost anywhere from $50 to $400.