There are a few different ways that you can upgrade your Polaris RZR. Some people like to add more power, while others prefer to focus on improving the already impressive suspension. No matter what your priorities are, there are a few must-have upgrades that will make your Polaris RZR even better.
In this article, we are going to take a look at the best Polaris RZR performance upgrades that you can make. We will discuss the options available and tell you which ones are the best for your particular vehicle.
Join our free Facebook group and ask your question there. We promise you, you'll get an answer from one of our team members or group members. Join the group here!
1. Polaris RZR Wheel & Tires Upgrade
Polaris RZR wheel and tires upgrade can help you enjoy your off-road experience even more. You can go places you never thought possible with better grip and traction. In addition, bigger and wider tires can give your RZR improved fuel efficiency and a more aggressive look that will turn heads when you're out on the trails.
Polaris RZR wheels play a major role in the look of your RZR. This is a big part of why many owners are willing to spend so much money on RZR wheels. After all, they're one of the first things people will notice about your RZR.
You can often find an aftermarket set of Polaris RZR wheels online for less than half the price you would pay at a dealer or other retail outlet. It's always a good idea to do comparison shopping before deciding which RZR wheels to buy.
If you're in the market for new Polaris RZR wheels, we recommend ITP Hurricane UTV Wheels as our top pick. They are lightweight, simple, and come with a lifetime structural warranty. Their set of four may cost above $600.
Also read: Polaris RZR Top Speed & Guide To Boost The Engine!
2. Polaris RZR Axles Upgrade
Polaris RZR axles are a great upgrade for your off-road vehicle. They are designed to provide superior strength and durability and can also help improve your vehicle's performance. If you are looking for a way to take your off-roading to the next level, investing in a set of Polaris RZR axles is a great option.
Unfortunately, OEM axles can often be found to be weak and not up to the task of taking your RZR off the pavement. They will break; it is a matter of when.
This is why upgraded axles are so important — they offer a much stronger connection between your vehicle and the ground, allowing you to explore more rugged terrain without fear of breaking something.
Manufacturers offer aftermarket options for their RZR axles, including SuperATV and Cobra.
Polaris' owners recommend SuperATVs Rhino 2.0 for front axles as it's two times stronger than the stock. They are field tested, so you can be sure you're getting a high-quality product. Their cost is also affordable, i.e., $240.
Cobra axles are recommended for the rear. They are backed with a 1-year warranty and come for a fair price under $300.
3. Polaris RZR Clutch Kit Upgrade
There are many reasons to upgrade the clutch on your Polaris RZR. A clutch upgrade can provide the following:
Better performance
Increased durability
Improved gas mileage
Protect your engine from damage.
A clutch upgrade is not necessary for everyone, but it may be beneficial if you frequently ride in the mud, sand, or other demanding conditions. It can also be helpful if you have added aftermarket parts to your RZR that increase its power output.
The cover bolts in a stock clutch may lose and cause the clutch to explode. In extreme cases, this can damage your engine.
Here, you can see a similar case below in the picture: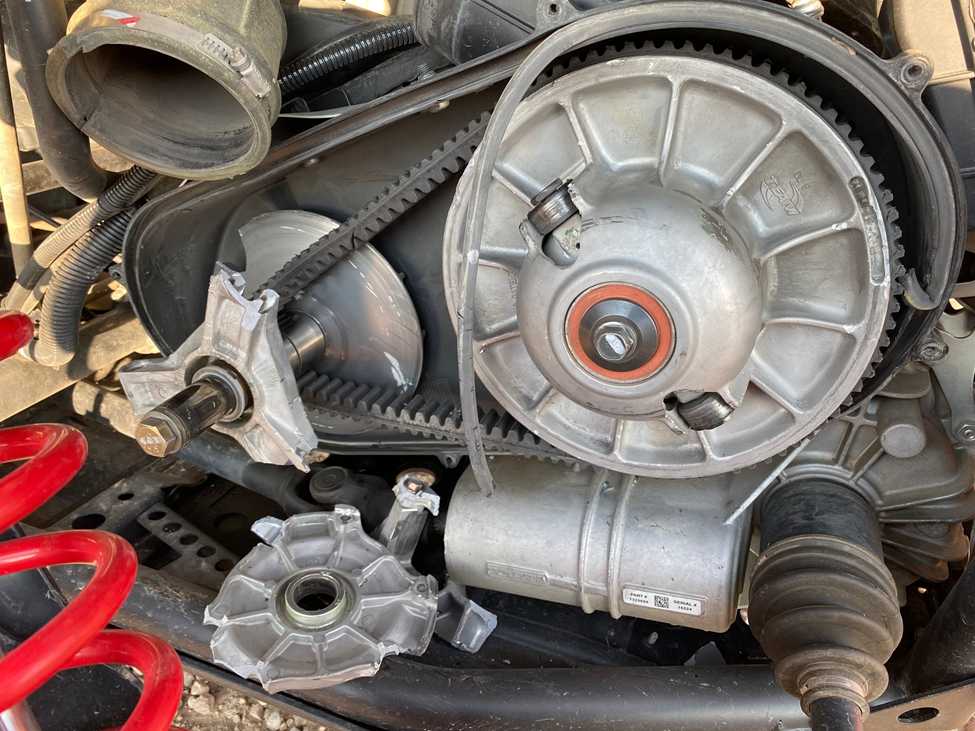 Luckily, many clutch kits available for Polaris RZR vehicles will meet or exceed the quality and performance of an OEM kit. Kits range in price from around $250 to $500. It is important to find a kit that is compatible with your vehicle's specifications.
The best clutch manufacturer for Polaris vehicles is American Offroads. Their clutches are best suited for the trail, mud, sand, & hauling.
4. Polaris RZR Front/Rear Bumper Upgrade
If you want to protect your RZR UTV from damage, upgrading to a front bumper is an excellent option. Front bumpers are made of high-quality materials and feature tough construction that can withstand many punishments.
These Polaris RZR front/rear bumper upgrades are the perfect way to protect your investment and add extra style to your ride.
These tough, durable bumpers are made of high-strength materials and feature a powder-coated finish that will resist corrosion and look great for years to come.
Here is a video of RZR bumpers sold by Rough Country. They can cost anywhere between $250 to $400. Bumper installation is straightforward. It has all the needed hardware and attaches to your UTV's frame.
5. Polaris RZR Doors Upgrade
If you want extra protection and style to your Polaris RZR, upgrading to a set of aftermarket doors is a great option. There are several different styles and designs to choose from, so you can find a look that fits your taste.
Plus, with doors installed, you'll be better protected from the elements and debris when out on the trails.
Some RZR owners like to upgrade to high doors because they provide better protection from the elements and allow for more storage space. They also help keep dogs and children inside.
The high doors might be a disadvantage if you follow tight technical paths, since they obstruct your vision of what's going on around your tires and rockers.
CW RZR Parts offers high doors in several styles and colors. They are made in the USA and use high-strength steel for extra protection. You may also request custom colors or variations.
A door upgrade can be expensive and may cost around $1000.
If you don't want to feel boxed in, go for a low door. It will also cost less than high doors, i.e., around $250 to $500, depending on the door style and quality. SuperATV is a great place to buy low doors for RZR.
Also read: 8 x Most Common Polaris RZR Pro XP Problems!
6. Polaris RZR Battery Upgrade
If you are planning on upgrading your Polaris RZR, one of the best things you can do is upgrade the battery. The stock battery that comes with most RZRs is not very good and can die quickly if you use your RZR a lot.
A better battery will last longer and provide more power, which is essential for a fun and safe ride. A good battery will keep your UTV running smoothly and help it start up quickly.
PC1200 batteries cost around $300.
While one battery is enough to get stock features and performance out of your RZR, an additional battery will make the UTV more powerful and capable. If you're attaching multiple accessories, such as new speaker systems, a second battery will ensure you have enough juice to run them.
For that, you'll need an extra battery tray. It's simple to install and uses holes to mount for a better hold.
7. Polaris RZR Windshield Upgrade
The Polaris RZR is a great off-road vehicle, but one thing that can make it even better is a windshield upgrade. With a new windshield, you'll be better protected from the elements and debris while on the trails.
A good windshield will have a strong frame and sturdy glass. It'll also be wide enough to keep you safe from trees, rocks, and other obstacles in the path. If you're serious about off-roading, it's worth investing in a new windshield for your RZR.
Polaris's official website offers a couple of windshield options for the RZR. The Full Glass windshield is a good choice for those who want something more durable and functional. A vented glass windshield is also available for those who want fresh air inside their vehicle.
Both windshields will set you back around $750 to $850. It comes with a strong frame and tough glass that can handle anything you throw.
However, you can also explore other options, such as American Offroads and Dirt Warrior Accessories. Their products are comparatively cheaper and may provide more customization options than official Polaris products.
8. Why Polaris RZR Roof Top Upgrade
A rooftop upgrade is a great option if you're adding protection from the elements while you're out on your Polaris RZR.
Not only will it keep you dry when it's raining, but it will also provide shade on those hot days. Plus, it'll give you extra storage space for any gear you might need to bring along.
Here's what you should look for when upgrading your RZR rooftop:
A strong and durable frame: The rooftop should have a sturdy frame that will keep it in place during heavy rainfall or windstorms.
Quality glass: Your new rooftop should have sturdy glass that can handle the elements while providing privacy.
Wide enough coverage: You don't want your rooftop to cover only part of your vehicle's windshield; it needs to be wide enough to cover the whole top.
An easy installation: You don't want to spend hours struggling with a rooftop installation. Look for a product that has an easy and straightforward kit.
You can enjoy all of these features on Polaris's official website. The price can range from $350 to $800.
9. Polaris RZR Light Bar Upgrade
Looking to add some extra light to your Polaris RZR? A light bar upgrade is a great way to do it. Light bars can significantly increase visibility, especially in low-light conditions. They can also help you see more clearly when off-roading. Here are some things to consider when upgrading your RZR's light bar:
The type of light bar you select: There are many different types of light bars available, from high-power LED lights to low-profile Cree LED lights. You'll want to choose the one that best suits your needs.
Number and size of lights: Depending on the type of light bar you choose, you may want between one and five lights. Make sure to select the size and number of lights that will fit best on your vehicle.
The installation: Most light bars have an easy installation kit that requires no welding or cutting-in. You'll just need to install the mounting bracket onto your vehicle's roof and connect the wires to the light bar.
Polaris's official site and BajaDesigns.com offer various light bar upgrades for the RZR. Prices range from $100 to $1000.
Images: Polaris ORV Media