There are a few different ways that you can upgrade your Polaris Sportsman 570. Some people like to add more power, while others prefer to focus on improving the already impressive suspension. No matter what your priorities are, there are a few must-have upgrades that will make your Sportsman 570 even better.
In this article, we are going to take a look at the best Polaris Sportsman 570 upgrades that you can make. We will discuss the options available and tell you which ones are the best for your particular vehicle.
Join our free Facebook group and ask your question there. We promise you, you'll get an answer from one of our team members or group members. Join the group here!
1. Polaris Sportsman 570 Battery Upgrade
Some Polaris Sportsman 570 owners experience that the OEM battery is underpowered. It sometimes struggles to turn against the compression and won't complete a rotation to start.
If you, too, feel that the battery is wimpy, even after checking the water levels, it's time to upgrade to a better one.
Here's what you should look for in a Polaris Sportsman 570 battery:
A battery that is specifically designed for the Sportsman 570. The battery size may differ even for different Polaris models.
A battery with a high cranking amp (CCA) rating (If you live in cold areas). The higher the CCA rating, the better the battery will perform when it is cold outside.
A battery with a long warranty period, so you can get a replacement if something goes wrong.
If you're looking for a Polaris Sportsman 570 battery that provides a reasonable warranty, try Autozone's Duralast Battery. With this, you can get up to 3 months of replacement warranty. The battery is factory-sealed (ready to go), and no acid refilling is required.
Its high-quality features also ensure you don't have to claim the warranty ever. The price of this battery Is $122.99.
Also read: Are Polaris ATVs Reliable, Check Your Model Here!
2. Polaris Sportsman 570 Tires Upgrade
Sportsman 570 tire upgrade depends on your riding style. You can upgrade to a mud tire, an all-terrain tire, or a sand tire.
Mud tires have deep treads that grip mud and prevent the vehicle from getting stuck. All-terrain tires are designed for off-road use and provide good traction on all surfaces. Sand tires have wide treads that provide traction on sand and other loose surfaces.
Another reason why you might want to upgrade your ATV tires is to improve your ride. If you find that your ride is bumpy or unstable, it might be time for new tires.
When you upgrade your ATV tires, you can get a smoother ride and more stability out of your vehicle. With new tires, you will enjoy the trails more and have a better experience while riding on them.
You can personalize the look of your ATV by changing the wheels and the rims.
If you're tight on budget, consider installing 3 or 4 bias-ply tires. These thinner tires are good for soft terrain, grass, and mild wood riding. However, they won't be effective for trail riding, MX racing, and mudding. You will need 8-ply radial tires (more expensive to buy).
Make sure to check the clearance while upgrading your Sportsman 570 tires. Many aftermarket tires are larger and wider than the factory ones. That can cause clearance issues, especially in the rear.
A new set of four tires will cost $200 to $400.
Also read: Polaris Sportsman 570 Top Speed & Guide To Boost The Engine!
3. Polaris Sportsman 570 Clutch Upgrade
The Polaris Sportsman 570 is a great machine, but many riders find that the stock clutch doesn't provide enough power and can be difficult to engage. There are many aftermarket clutch kits available that promise to address these issues.
If you're doing lots of climbing or driving in the snow with a Sportsman ATV, it's good to have an upgraded clutch. The primary and secondary springs in the clutch can wear out, so it's a good idea to have a few spare sets on hand.
You can also get an upgraded clutch kit that provides extra traction if you're planning on doing lots of off-roading.
RVS Performance's clutches are Polaris community's favorite. The best Polaris clutch kits from RVS Performance utilize a patented adjustable weight system and military-grade construction to deliver unmatched performance in any terrain.
RVS Performance offers clutches that are made from Aluminum and precisely machined by advanced CNC equipment.
Whether you ride your Polaris on the trail or dunes, RVS Performance has a custom clutch kit designed to improve power and performance.
However, this upgrade will cost a major dent in your pocket of around $1,000.
4. Polaris Sportsman 570 Shocks Upgrade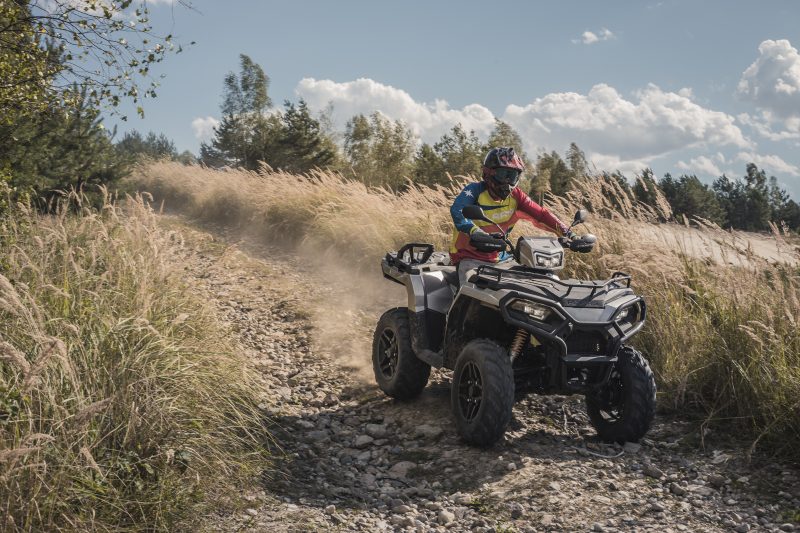 The Polaris Sportsman 570 is a great all-around ATV, but its suspension could use an upgrade. If you're putting too much weight on your Polaris Sportsman 570, it can sag down and rub on the ground.
Most Polaris Sportsman drivers experience too-hard shocks that make their ride uncomfortable. This is why many people upgrade or replace their shocks with a set of aftermarket shocks made specifically for the Sportsman.
Upgrading the suspension will make the ride more comfortable for you and your passengers and improve the ATV's off-road performance. Furthermore, it will reduce the chances of bottoming out.
Also, if you're looking to increase the resale value of your vehicle, there's no better option than finding some good shock replacement.
Check out these ELKA Suspension Rear Shocks that are specifically compatible with Sportsman 570. They are ultra-light for your weight savings. Hence, this makes the handling predictable and smooth.
The vehicle's weight will transfer smoothly upon braking and acceleration with proper shock absorption. The vehicle will have a softer ride and handle bumps in the road better.
Also read: 5 x Most Common Polaris Sportsman 570 Problems!
5. Polaris Sportsman 570 Lift Kit Upgrade
If you're looking to boost the performance of your Polaris Sportsman 570, a lift kit upgrade is a great way to do it.
A lift kit can improve your vehicle's ground clearance and suspension, making it better equipped to handle tough terrain. Plus, a lift kit can also give your Sportsman a more aggressive look that will turn heads out on the trails.
Here's what you should look for in an ideal Sportsman 570 lift kit:
It should be able to raise the machine by a few inches.
It should be easy to install and remove.
It should not damage the Sportsman's factory suspension components.
A 2″ lift kit is generally enough to provide additional clearance for most Sportsman ATVs. However, depending on the model and year of your ATV and the type of terrain you ride in, you may find that a higher lift kit is necessary.
If you frequently ride in deep mud or water or plan on doing any serious rock crawling, a 3″ or 4″ lift kit may be a better choice.
A good lift kit would cost around $100-$150.
Also read: 7 x Most Common Polaris Sportsman Lift Kit Problems!
6. Polaris Sportsman 570 Power Steering Upgrade
With a power steering upgrade on the Polaris Sportsman 570, you will enjoy increased steering response, reduced steering effort, and fewer bumps and jolts while on the trail. Installation is quick and easy so that you can enjoy the benefits of power steering right away.
If you own a Polaris Sportsman 570 and are looking for a power steering upgrade, the best option on the market is the EZ-STEER power steering kit from SuperATV. This kit is designed to reduce steering effort by up to 40%, making it much easier to steer your ATV, especially when riding in rough terrain.
The kit includes all necessary hardware and instructions for an easy installation and is backed by a three-year warranty.
Upgrading the power steering will be a bit costly (around $850), but it's worth it. This is because, with good power steering, you can avoid driving accidents, especially during sudden turns.
7. Polaris Sportsman 570 Throttle Control Upgrade
The Polaris Sportsman 570 Throttle Control Upgrade is a great addition to your vehicle. It will improve your vehicle's performance by allowing you to have more control over the throttle. This upgrade will also help protect your engine by allowing you to control the fuel used.
The throttle control is easy to install, and the process can be done in just a few minutes.
Most ATVs nowadays come equipped with a thumb throttle, as it is easier to use than other types of throttles, provides more safety features, and does not take as long for the average rider to learn.
A thumb throttle is a safer and more effective way to ride an ATV than a twist throttle.
You would not be able to lean into or away from the front of the car if you were using a twisted throttle because you may accidentally twist the throttle and produce an accidental speed shift.
Your car, as well as you, might accelerate and inflict significant injury. A thumb throttle lever costing as low as $15 can save you from those unwanted incidents.
8. Polaris Sportsman 570 Air Filter Upgrade
One of the weak points of Sportsman 570 is the air filter. The stock air filter does not greatly filter out dirt and debris and can quickly become clogged. An upgrade to a better air filter will help to keep your engine clean and running smoothly.
Frequent air filter replacement will be necessary for dusty environments.
Air filters are critical to your ATV, as they protect your engine from dirt and other particles that might enter it. It's always recommended to use Polaris-approved air filters that have been tested and designed for Sportsman 570.
A good quality air filter for a Sportsman vehicle (such as K&N) will cost more than $100, but will be worth the money because it will keep your engine running cleaner and last longer. The installation will only take five to ten minutes and a screwdriver.
Here's what a Polaris owner says about K&N filters:
I have a K&N air intake system. I love the sound it makes, Plus slight gains in the high end. But over all, just getting a filter is only nice if you don't like spending 8 dollars on a filter every 6 months.
Images: Polaris ORV Media