Polaris is a pioneer when it comes to off-road vehicles such as ATVs and UTVs. They have a massive client base, and they do have a successful lineup to back that up. Even with all this success, you cannot overlook the fact that the company has been plagued by Polaris Sportsman Lift Kit Problems for a long time.
Polaris Sportsman might experience a loud knocking or clanking sound followed by axle damage after installing a new lift kit. A brand-new lift kit can also cause strain and wear and tear on CV boots due to incompatible or extra lift height.
Due to this issue, some Sportsman models are more consistently affected than others.  Let us look at some of the problems that you could encounter with the Sportsman Lift Kit. Furthermore, at the end of this, you will know how to perform required repairs and their costs.
Also read: Are Polaris ATVs Reliable, Check Your Model Here!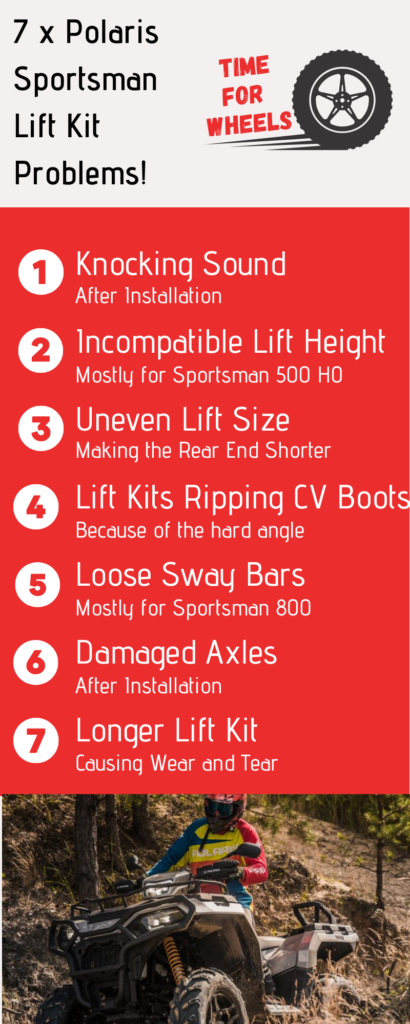 Join our free Facebook group and ask your question there. We promise you, you'll get an answer from one of our team members or group members. Join the group here!
1. Knocking Sound After Installing New Lift Kit – Sportsman 500 HO
After installing a new lift kit on your Polaris Sportsman ATV, you might hear some weird knocking sound from the front end. This indicates metal-to-metal contact and needs to be rectified soon.
Many Sportsman 500 HO drivers have noticed this problem. It's a common issue on ATV forums.
The knocking sound intensifies when you hard turn left or right. Unfortunately, you can't check what's the issue while driving.
This might also happen after riding over tough terrain for a long time. Other than that, another reason for this issue is improper lift kit installation.
To solve this problem, you'll have to replace front axles that are probably worn out. Ideally, you should go with East Lake's axles, as they are made to last longer. They'll cost around $160.
After installing a new axle, you might experience instability at higher speeds. Ensure that the parts in your steering/suspension are tight and the tires compatible.
Also read: 6 x Polaris Sportsman 500 Problems and how to Fix it!
2. Incompatible Lift Height – Sportsman 500 HO
If your Sportsman lift kit has an incompatible height, it'll create a sharp angle on the axles. This will then cause premature wear on the CV joints and breakage.
A lift kit that is incompatible with your tires may also end up causing them to rub. This can result in both an uncomfortable and unstable ride.
Sportsman 500 HO users experience this problem.
You can buy a compatible lift kit from Super ATV, which will probably cost anywhere from $60 to $70. The installation will take up to two hours. A few more if you are doing it for the first time.
If you have chosen a compatible lift height, you should not have any front or rear-end problems.
3. Uneven Lift Size Making the Rear End Shorter – Sportsman 500 HO
An uneven lift size can make the rear end shorter of your Polaris vehicle. This can cause it to bounce and be less stable.
It has been observed in the Sportsman 500 HO model that placing an extended lift on both ends sometimes makes the axle pop out of place.
Here's what a customer has to say,
I never had a problem with my Polaris sportsman 500 h.o until I put an aftermarket lift kit on it, b/c it made the axles shorter in the rear end and one of the axles pop out of place, so I took off the rear lift and never had a problem since, and it sits even. My other Polaris is a Xpress 300 2 stroke, I never had a problem with it. I think Polaris are great ATVs.
This can be remedied by ensuring that the axle is properly seated in the frame before attaching the extended lift, or by using a shorter lift that does not extend as far out from the frame.
You can also try removing the extended lift from the rear side or front (whichever is longer) and see if the problem goes away. If not, the axle may be damaged and need replacement. Depending on your Sportsman model, a new axle will cost more than $100 or even $150.
4. Lift Kits Ripping CV Boots – Sportsman 700
If you have recently installed new lift kits to Sportsman ATV, you might notice CV boots being torn because of the hard angle. The damage to CV boots can cause a serious problem, and you need to replace them with a new one. You should not wait until the CV joint is damaged or breaks because this will result in the wheels falling off your ATV.
This issue is reported for Sportsman 700.
Ensure the struts are ground down; otherwise, the cv boots could tear.
If the installed lift kit is of Gorilla, this could be a problem, as people have experienced Gorilla lift kits damaging CV joints and boots.
You'll have to replace the new lift kit with a different one as soon as possible because it'll further break down more components. More maintenance expenses will incur if the front axle gets broken.
5. Loose Sway Bars With New Lift Kit – Sportsman 800
Sometimes, the sway bars with the new lift kit can be loose on your Sportsman ATV. The kit comes with bolts that might not be the best fit.
This problem has been reported in Polaris Sportsman 800.
This can create serious problems because the bolts will not stay tight and could come loose at any time. If you notice that your bolts are loose, then make sure to check them regularly, and if they show any signs of wear or tear, then replace them as soon as possible.
To fix this problem, you will need new sway bar link bushings. They'll cost less than $20 and are available on eBay.
Here's a customer explaining his problem:
Just installed as new lift kit on my Polaris 800. It's the kit popular on eBay, giving the ATV 2″ in front and 1.5″ in rear. The installation went pretty easily. I put the sway bar link extenders on the rear that come in the kit. My problem now is that the sway bars are loose.
How he solved the issue:
Installed new sway bar link bushings. Seems to have tightened up. The old ones were pretty shot. 7 mile test ride seems like no issues have arisen
6. Damaged Axles After Installing New Lift Kit – Sportsman 700
Sometimes, in Sportsman 700, you hear loud clanking followed by axle damage after installing a new lift kit.
There are a few options you have. You can replace your axles with stock ones or get aftermarket ones that cost anywhere from $170(Rhino) to $400(Gorilla, Turner). The Rhino axles are said to be heavy duty and are between the stock axles and the Gorilla or Turners.
Try not to ride on rough terrains until you're sure that the new lift kit isn't damaging your vehicle's components. Also, keep your riding smooth to prevent high maintenance costs. The tires on your Sportsman vehicle also affect the duration of axle life.
7. Longer Lift Kit Causing Wear and Tear – Sportsman 400
The longer lift causes excessive strain on axles and other vehicle components due to the steeper angle.
The wheel spacers will cause more wear and tear on the bushings and wheel bearings as they push the wheel out further, increasing its leverage.
Old Sportsman models used to have stronger axles, but now more complaints are arising.
If you're driving on dry, level ground, your car's axles shouldn't be under any more stress than they normally are. However, if you're driving in deep mud or snow, the added resistance can strain the axles. This can cause them to break or bend, leading to serious accidents.
You can always upgrade to a new axle as a precautionary measure if you think your new lift will break it down.