The Polaris Sportsman is a popular lineup of all-terrain vehicles (ATVs) produced by Polaris Industries. These ATVs are known for their versatility and off-road capabilities, catering to both work and recreational use. But would it be possible to tow a load with the Sportsman, and what about the cargo capacity?
To make it easy for you, we have listed the towing capacities of the different Sportsman's for you. And we have also done this for the cargo capacity. If you are looking for the towing or cargo capacity of your Polaris General, read on.
Join our free Facebook group and ask your question there. We promise you, you'll get an answer from one of our team members or group members. Join the group here!
Towing Capacity Of The Sportsman Models
Below you will find some popular Polaris Sportsman models along with their approximate towing capacities. Please be aware that the details may vary slightly depending on the specific model and year.
Polaris Sportsman 450
This model typically has a towing capacity of around 1,225 pounds (556 kilograms).
Polaris Sportsman 570
The Sportsman 570 can usually tow up to 1,225 pounds (556 kilograms).
Polaris Sportsman Touring 570
This model, designed for two passengers, typically has a towing capacity of up to 1,225 pounds (556 kilograms).
Polaris Sportsman 850
This model typically has a towing capacity of around 1,500 pounds (680 kilograms).
Polaris Sportsman XP 1000
The Sportsman XP 1000 usually has a higher towing capacity, typically around 1,500 pounds (680 kilograms).
Polaris Sportsman Touring XP 1000
The Sportsman Touring XP 1000, also designed for two passengers, usually has a towing capacity of up to 1,500 pounds (680 kilograms).
Also read: All Polaris Rangers Towing and Cargo Capacities
Hauling Cargo Guidelines According To Polaris
Polaris' mention on their website the following precautions for safe towing and transporting cargo.
Overloading the vehicle or carrying or towing cargo improperly can change the way the vehicle handles and may lead to loss of control or brake instability. This can lead to serious injury or worse. 
When hauling cargo, always follow these precautions. 
Never exceed the maximum weight capacity of the vehicle. 
The weight you're adding to the vehicle should include the weight of the driver, accessories, cargo in the rack or case, and the load on the trailer's tongue. The combined weight of these items must not exceed the maximum weight capacity. 
Do not travel faster than the recommended speeds. 
When towing a load, the vehicle should not exceed 10 mph (16 km/h) on a level surface. When hauling loads on rough terrain, when turning, or when climbing or descending a hill, vehicle speed should not exceed 5 mph. Reduce speed and cargo weight when operating over rough or hilly terrain to maintain stable driving conditions. 
Use low, forward gear when hauling or towing heavy cargo.
This is necessary to extend belt life. 
Reduce speed and allow greater distances for braking when hauling cargo. 
This one is obvious, no words needed.
Cargo weight distribution should be 1/3 on the front rack and 2/3 on the rear rack. 
When driving on rough or hilly terrain, slow down and load less stuff to keep things stable. Putting loads on just one rack raises the risk of the vehicle rolling over. 
Carry loads as low on the racks as possible. 
Carrying loads high on the racks increases the center of gravity of the vehicle and creates a less stable operating condition. 
Secure all loads before operating. 
Unsecured loads can make the vehicles' operation unstable, which could lead to the vehicle losing control of it.
Operate only with stable and safely arranged loads. 
When handling things that are not centered, secure them tightly and be extra careful when moving them. Always put the tow load on the spot where your vehicle is supposed to hitch. 
Heavy loads can cause braking and control problems. 
Be cautious when attempting to stop a heavy vehicle. Avoid terrain or situations where you might have to back downhill.
Use extreme caution when operating with loads that extend over the rack sides. 
The vehicle's stability and maneuverability may be adversely affected, resulting in an overturn. 
Do not block the front headlight beam when carrying loads on the front rack. 
Please note that the cargo weight distribution and capacities vary by model and trim level. Refer to the Operation section of your Owner's Manual for information specific to your vehicle. 
Transporting Cargo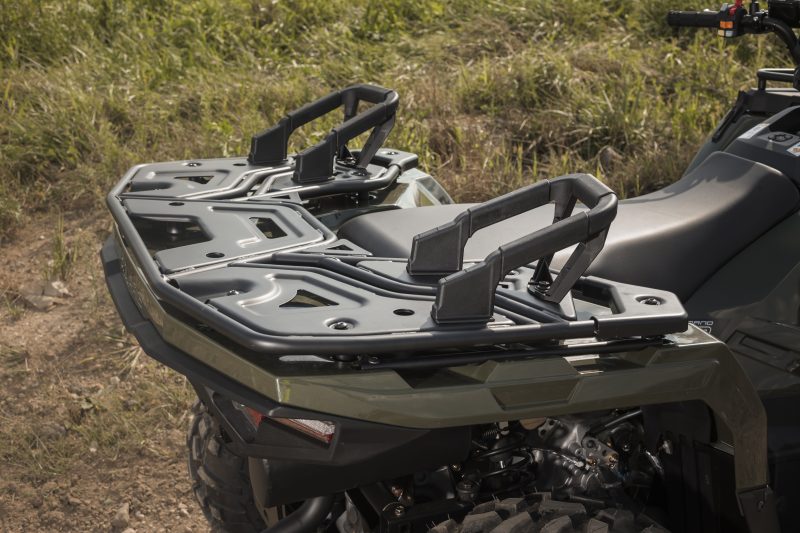 Regarding cargo capacity, the Polaris Sportsman ATVs typically offer a variety of storage options to accommodate cargo and equipment, for example:
Front and Rear Cargo Racks
Most Polaris Sportsman ATVs come equipped with front and rear cargo racks. These racks provide ample space for securing and transporting gear, tools, and supplies.

The cargo racks can handle a significant load capacity, typically ranging from 75 to 200 pounds (34 to 91 kilograms) on the front rack and 150 to 300 pounds (68 to 136 kilograms) on the rear rack, depending on the model.

Storage Compartments
Many Polaris Sportsman models also feature storage compartments located in the front and rear sections of the ATV. These compartments provide additional enclosed storage space for smaller items such as personal belongings, tools, or other essentials.
Hitch Receiver
Polaris Sportsman ATVs often come with a rear hitch receiver, allowing users to attach a trailer for towing purposes. This expands the cargo-carrying capacity of the ATV, enabling the transportation of larger and heavier items.
The Polaris Sportsman High Lifter
This is a specialized model designed for mud and off-road enthusiasts. This model typically has a towing capacity of around 1,500 pounds (680 kilograms).
The specific cargo capacity may vary depending on the model and any optional accessories or configurations.
Please keep in mind that these figures are approximate and may vary depending on the specific configuration and optional features of the vehicle.
Note: If you are not sure about the towing and/or cargo capacity of your vehicle, check the manual or the Polaris website as well for safety information.