Polaris is a pioneer when it comes to off-road vehicles such as ATVs and UTVs. They have a massive client base, and they do have a successful lineup to back that up. Even with all this success, you cannot overlook the fact that the company has been plagued by Polaris transmission problems for a long time.
One of the most common problems with Polaris transmissions is that they can be very difficult to shift. Another common problem is the transmission slippage in some Polaris Ranger, Sportsman, and Xplorer models. Some Polaris transmissions are reported to get damaged due to loose bearings.
Due to this issue, some models are more consistently affected than others.  Let us look at some of the problems that you could encounter with transmission on your Polaris. Furthermore, at the end of this, you will know how to perform required repairs and their costs.
Also read: Are Polaris ATVs Reliable, Check Your Model Here!
Join our free Facebook group and ask your question there. We promise you, you'll get an answer from one of our team members or group members. Join the group here!
1. Clunking Sound Due to Transmission Slipping – Polaris Ranger and Magnum
If you're facing a clunking sound coming out of the transmission, it's probably due to the transmission system slippage. It starts to clunk and jerk when you start the ride. The problem intensifies in the hot season.
Polaris Ranger XP 700 and Magnum 325 are the models facing this transmission slippage.
First of all, you might want to check if your belt is coming apart. You can take off the side cover to perform a quick check. At first, it might look fine from the outside. Check the underside of the belt. If it has spots, it's time to replace your belt.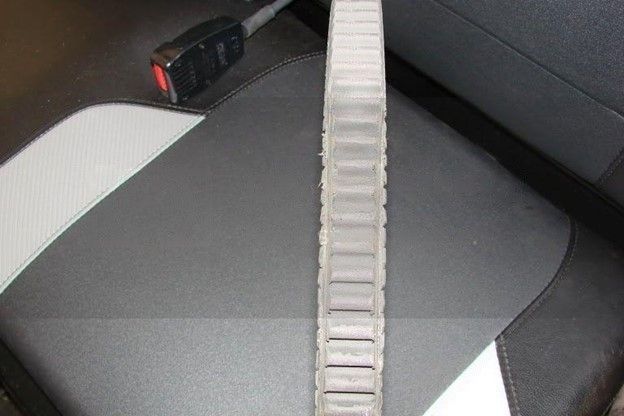 To prevent your belt from getting burnt or damaged again, it's advisable to avoid leaving the machine in gear with the motor idling for extended periods of time.
You can change the belt or take the machine to the nearest local mechanic. The new belt would cost under $30.
Also read: 8 x Most Common Polaris Ranger 150 Problems!
2. Gears Not Engaging at High Speeds – Polaris General and Sportsman
The gears on a Polaris General may not engage properly at high speeds, resulting in the vehicle slowing down or stopping. This can be a dangerous situation if it occurs while the vehicle is in motion.
Polaris General 1000 Hunters Edition and Sportsman 600 drivers have experienced difficulty engaging gears at high.
To fix this issue, begin with adjusting the shift linkages.
First, remove the clip and the shift cable from the arm connecting it to the Transmission. Then, turn the lever that the shift cable moves. Pliers or an Adjustable Wrench work well for this.
If you can move it through the full range P through H., Then it's the shift cable.
If you cannot access all gear ranges from P to H by turning the lever, it is most likely an issue with the Transmission. To fix the transmission system in this case, a repair serviceman can quote a few thousand dollars.
Also read: Most Common Polaris General 1000 Problems!
3. Vehicle Popping Out of Gear – Polaris Xplorer and Sportsman
When put in reverse, Polaris vehicles start to back up and pop out of gear, accompanied by some gear noise.
This problem is common in Ranger Xplorer 400 and Sportsman 500.
The vast majority of the time, an issue with the linkage is to blame. This could manifest as loose bellcranks on the gear case or wear on the shift box. Try readjusting, and if that doesn't work, loosen both rod ends from the shift box. Put it in neutral, and see if there's a lot of "slack" on the shift lever when moving it forward and back. This can cause positive forward or reverse shifts to be erratic.
Adjust the rod ends, so they fit snugly into the shift box levers without force on them. Tighten the lock nuts, and check to see if the reverse is engaged properly. If it isn't, remove the linkage from the lever, use pliers to lock it in reverse, and see if that works. If it doesn't jump out of gear, it's probably a problem with the shift box.
Here are recommendations in the RZR user manual. Check the following items when shifting difficulty is encountered:
Shift cable adjustment/condition
PVT alignment (clutch center distance)
Idle speed (throttle cable routing)
Transmission lubricant type/quality
Loose fasteners on sector gear cover
Worn rod ends, clevis pins, or pivot arm bushings
Shift selector rail travel
Worn, broken, or damaged internal transmission
components
Check out this video to fix Polaris Ranger popping out of Reverse:
Also read: 6 x Most Common Polaris Sportsman 500 Problems!
4. Damaged Transmission Because of Loose Bearing – Polaris RZR and Ranger
Although ATVs are for rough terrain, they require some good care. Still, the loose-bearing case is quite common among Polaris ATVs and can incur heavy maintenance expenses.
Polaris RZR XP 1000 and Ranger 800 have a loose bearing problem which causes the transmission system to break down completely.
Here's a thread comment from a Polaris forum:
I have a 2014 RZR 1000 XP stock. I don't drive this like I stole it, I take good care of it, and I usually ride in sand. So, I was at Little Sahara and I guess a bearing went out on my transmission, which in return ate a whole in my case, and is NOW costing me $3500 to repair. I was in contact with Polaris and ultimately, even though the dealer told them the bearing failed, they still denied any claims that this is a problem. So, I have searched and found where some have done oil mods, but other than that I haven't really found out and insight that makes me feel 100% positive that this will not happen again.
Unfortunately, there is nothing you can do to fix it if the transmission has been damaged.
You can contact Polaris and see if warranty claims cover it. If you have an aftermarket warranty, it might not cover the expenses. The estimated cost to fix this transmission issue will be around $3,500, depending on the severity of the damage.
Also read: 6 x Most Common Polaris RZR 1000 Problems!
5. Transmission Slipping in Deep Water – Polaris Xplorer and Sportsman
If your Polaris vehicles' floorboards are covered in water, the water might get inside the transmission, stopping it immediately. It won't be functional until it dries off. Sometimes, it takes days to come back to normal working.
Polaris Xplorer 300, 350, and Sportsman 700 might be more susceptible to this problem, but luckily, it's solvable.
Here's a Polaris driver explaining his case on an online forum:
I've got a 1996 Polaris Xplorer 300 with the Polaris variable transmission, or whatever they call the automatic one, and it's just started slipping. It's happened twice now, and both times I had just had water up just above the floorboards. Luckily, it's been able to get itself out, but the transmission essentially stops putting power through to the wheels, in 2 or 4 wd. I have to wait for a while, and after about 15 minutes it starts to work again, but the power doesn't come back until the next day. I've never beat the hell out of it, and I've followed the maintenance schedule in the manual.. anyone knows what's up, or what to do about it?
There is a hole or crack in your belt cover, which is allowing water to get on your belt and causing it to slip. Inspect your belt cover for any holes or cracks and determine if it needs a new gasket to prevent leaking. The inner clutch belt cover will cost around $60. You can buy it locally or through any online vendor. Remove the drain plug from the bottom of the belt/clutch cover and allow the water to drain. Then give it some gas to spin the belt, so it can air dry.
Featured image: https://www.polaris-orv.media/