Polaris is a pioneer when it comes to off-road vehicles such as ATVs and UTVs. They have a massive client base, and they do have a successful lineup to back that up. Even with all this success, you cannot overlook the fact that the company has been plagued by Polaris Voltage Regulator problems for a long time.
Polaris RZR, Ranger, and Sportsman have problems with voltage regulators that cause low voltage and battery charging issues. Some Polaris RZR and Sportsman's voltage regulators are reported to overheat and melt wires.
Due to this issue, some models are more consistently affected than others.  Let us look at some of the problems that you could encounter with the voltage regulator on your Polaris. Furthermore, at the end of this, you will know how to perform required repairs and their costs.
Also read: Polaris UTV Reliability, Check Your Model Here!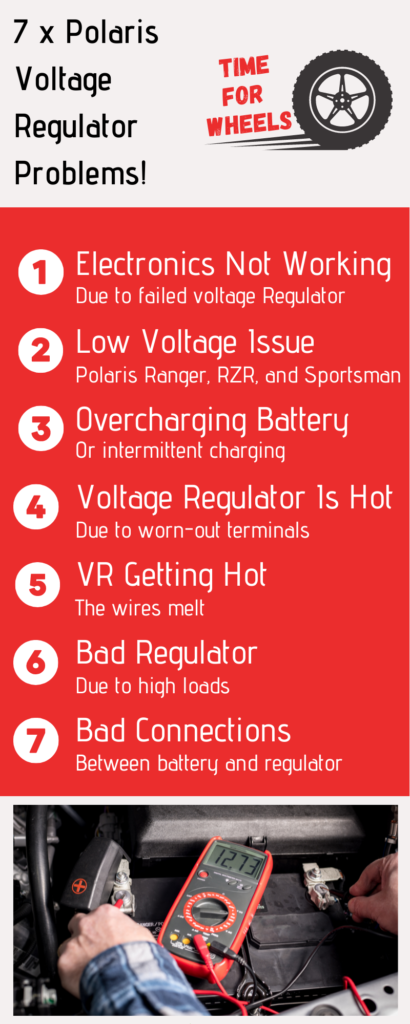 Join our free Facebook group and ask your question there. We promise you, you'll get an answer from one of our team members or group members. Join the group here!
1. Electronics Not Working Due to Failed Voltage Regulator – Polaris Snowmobile and Ranger
When the voltage regulator goes bad on your Polaris snowmobile or Ranger, the electronics may not work. In many cases, this will mean that the ignition won't start, the lights don't turn on, and even the battery may not charge.
Here's a Polaris community member explaining the issue:
"At the end of last season when I went to start the sled one morning, the lights and dash came on as usual but quickly shut off. The dash was completely blank and unresponsive and both the head and tail lights are very dimly lit. The hand and thumb warmers didn't work either, but the sled ran fine!:dunno: Reverse didn't work either."
Polaris Snowmobile IQ 600 HO and Ranger XP 700 experience this problem.
A failed voltage regulator can take down many components with itself. Not only that, it may leave you stranded in the middle of the road. Hence, repairs can be costly and time-consuming, so it's important to troubleshoot any problems as soon as they arise.
An aftermarket regulator will cost around $50 and will take about 15 minutes to replace.
Also read: 5 x Most Common Polaris Ranger 570 Problems!
2. Low Voltage Issue – Polaris Ranger, RZR, and Sportsman
Polaris voltage regulator issues can often be traced back to a low voltage issue. A large number of new machines come to factory with a low voltage issue, and it's very difficult to troubleshoot.
Polaris XP 800, 900, and Sportsman X2 570 models have been experiencing low voltage due to voltage regulator problems.
Ideally, the battery needs DC 13.5v to charge. But the voltage output can sometimes drop down to 10 or even a single digit.
Sometimes, the engine doesn't start and begins cranking. During the ride, the voltage keeps dropping until the vehicle dies down.
You don't have any option except to replace the bad regulator. If the problem persists, the issue is probably with the stator or battery.
Also read: 5 x Most Common Polaris Ranger 1000 Problems!
3. Overcharging Battery or Intermittent Charging – Polaris RZR, Ranger, and Sportsman
Overcharging will occur when the voltage regulator supplies more than required to the battery. Overcharging can shorten the battery life and eventually lead to a dead vehicle. At any rpm, you should never see a charge voltage of 18 or 19 volts.
Polaris XP 800, 900, and Sportsman X2 570 models have been reported with this problem.
If your machine exhibits intermittent charging – as it charges for a while then stops – it may indicate an overcharged battery or faulty voltage regulator.
If you've replaced the VR a couple of times and are facing this issue again, it's probably the stator making them go bad.
Here's how you can check the stator if it's broken before you spend $100 to $150 on fixing the ECM:
Also read: 7 x Most Common Polaris RZR 900 Problems!
4. Voltage Regulator Getting Extremely Hot – Polaris RZR
Some Polaris ATVs, such as RZR 900s, have voltage regulators that get extremely hot to touch. It can be due to a loose battery connection, worn-out terminals, or simply a bad voltage regulator.
How hot can a voltage regulator be? What's the normal temperature?
When the cord on an electric space heater runs, it reaches over 100*F – warm to the touch but not excessively hot.
The temperature of a cord on an electric space heater, image courtesy.
As long as you can touch the wire, you can continue using the current regulator. Just make sure that the connections are good and tight, especially at the battery and if anything is shorted to the ground. If you see any burnt-out terminals or connectors, it's time to replace the regulator.
Also read: 8 x Most Common Polaris RZR Pro XP Problems!
5. Voltage Regulator Getting Extremely Hot – Polaris Sportsman
Polaris Sportsman models (2008 Sportsman 500) have been known to experience melted voltage regulator wires.
Melted yellow wires of the regulator, image courtesy.
Here's what a customer has to say in a forum community:
I noticed this the other day when something started smoking. I just got around to pulling off the cargo box to investigate. Where I had some auto conduit around the yellow wires had melted. Upon looking further. The plug itself had melted too. So now both plugs are melted. The male end coming from the wire harness will need to be replaced. I have searched and can't find a replacement anywhere. Does anybody know of one?
Here's what you can start with:
Do a resistance test on the stator
When running the motor at 3000 rpm, conduct a voltage test on the battery.
Check every connector if it's clean and making contact.
Soldering the connections together and removing the plug may help. The plug is a poorly designed product. The wires should be 10 gages rather than 12.
If your regulator wires are melting, the only solution is to replace the VR and the harness.
You will need the "3 Position HD Waterproof Connector" for the voltage regulator. You may buy 2x or 3x as much as you need. It won't hurt to have backups.
If you see any melted or scorched wires near your battery, it's best to immediately replace your entire voltage regulator.
Also read: 6 x Most Common Polaris Sportsman 110 Problems!
6. Bad Regulator Due to High Loads – Polaris Ranger
The voltage regulator will inevitably fail if you continually put high loads on the battery. If the charging circuit operates will run on all the time, something that it's not intended to do.
Polaris Ranger 900 XP Deluxe displays this problem often.
The real issue is what current the VR (and alternator) is drawing to maintain the specified voltage, not how much the VR can maintain the voltage. The VR is only supposed to provide a limited amount of current when the load on the battery becomes too high.
If you're running your machine at full throttle all the time, it's likely that your VR isn't up to par and needs to be replaced.
Also read: 7 x Most Common Polaris Ranger Crew Problems!
7. Bad Connections Between Battery and Regulator – Polaris Ranger, Dragon, and Snowmobile
Because of poor connections between the battery and the regulator, Polaris regulator rectifiers generally burn. If you've been living in moist weather and frequently travel through water, you are more susceptible to having corrosion build up in Polaris ATV connectors.
This leads to unneeded resistance, which creates heat and causes excess current overcoming the resistance.
People found this common in Polaris Ranger XP 700 and some Snowmobile IQ 700 vehicles.
The Polaris voltage regulator will not be able to drain excessive voltage adequately if corrosion forms on the ground connector, causing it to overheat and potentially causing a burnt regulator.
Other symptoms may include low voltage or frequent voltage fluctuations.
If you're having this problem, be sure not to operate on the current VR system. If you do so, the likelihood of your ECU frying up is high.
Fill the connections with dielectric grease to exclude water and prevent corrosion, then wait to see if whatever problem you experienced happens again. If it does, the VR needs to be replaced.