When you are in the market for an ATV or UTV, you quickly end up with two brands, namely Polaris and Can-Am. These two brands are leading in the market. They both make ATVs, UTVs and three-wheeler bikes.
The brands are very similar, but they do differ from each other. Each brand has its own values, characteristics and design philosophy, which are shown in the design and performance of their vehicles.
To get a sense of whether a brand really suits you, you do research and want to find out as much as possible about it. This article focuses on the differences between Polaris and Can-Am in general, in order to help you decide which brand suits you better. So, read on!
Join our free Facebook group and ask your question there. We promise you, you'll get an answer from one of our team members or group members. Join the group here!
Who owns Can-Am, and who owns Polaris?
Can-Am vehicles are produced by Bombardier Recreational Products (BRP), a Canadian company. Polaris vehicles are manufactured by Polaris Inc., an American company headquartered in Medina, Minnesota, United States.
Also read: Where Is Polaris Made? ATVs, UTVs, Slingshot and …
What kind of vehicles do they make?
BRP produces many crafts for land, water, and air travel. The company makes the famous Bombardier aircraft, high-speed trains, locomotives, the Ski-Doo and Lynx snowmobiles, Sea-Doo personal watercraft, Rotax engines, Can-Am motorcycles and Can-Am all-terrain vehicles (ATVs), Utility Terrain Vehicles (UTVs) including military adaptations.
Polaris Inc. produces motorcycles, , snowmobiles, neighborhood electric vehicles, ATVs and UTVs, including military variations.
Also read: Where Are Can-Ams Made? UTV, ATV, Ryker, Spyder, …
When did they start production of ATVs and UTVs?
Can-Am, the BRP motorcycle subsidiary, traces its roots back to 1972 when it started producing snowmobiles, motorcycles, and motocross dirt bikes. In 1998, Can-Am entered the ATV market with the Traxter, a utility-based ATV.
BRP stopped making the motorcycles in 1987, and the Can-Am brand entered a 19-year sabbatical. In 2006, BRP relaunched the brand with a selection of off-road vehicles, and in 2007 it began selling on-road rigs.
Polaris was established in 1954 in Roseau, Minnesota, United States. In 1985, Polaris launched the Scrambler ATC and Trail Boss, considered the first American-made ATVs. The company was the first to introduce side-by-side utility terrain vehicles (UTV) with the launch of the Polaris Ranger in 1999.
In which countries are the vehicles made?
BRP has manufacturing plants in Canada, the USA, Mexico, Austria, and Finland. BRP products, including Can-Am vehicles, are available in over 100 countries.
Polaris makes its engines and most vehicle parts in Osceola, Wisconsin. Polaris vehicle assemblies are in Roseau, Minnesota, the Huntsville complex, Alabama, and Monterrey, Mexico.
What is their model range?
Can-Am and Polaris offer a full line of Side-by-Side and ATV vehicles suitable for riders of all age groups and skill levels, including junior, professional racing, and military variations.
Can-Am and Polaris also produce three-wheel motorcycles. The Can-am Spyder roadster uses an ATV-like chassis and targets experienced riders who love speed. The Ryker is an entry-level tricycle designed for new riders. The Polaris Slingshot is a popular half-motorcycle, half-car that offers easy access to power and crisp suspension and is insanely fun on curves and into corners.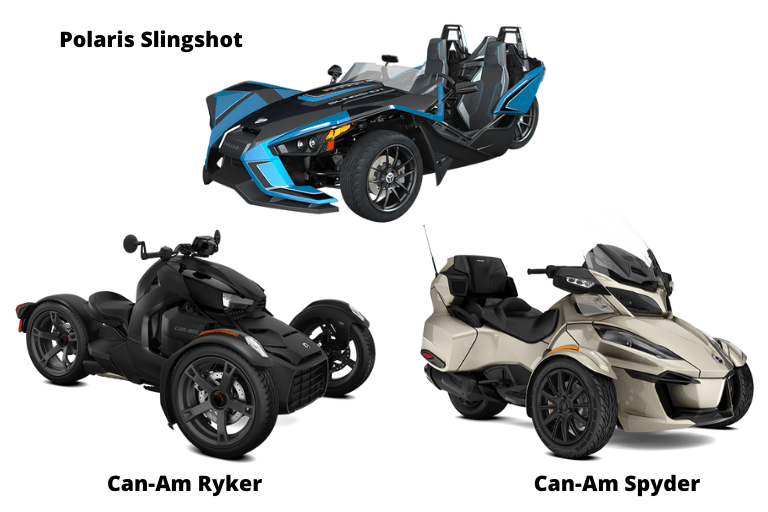 What's the difference in performance?
In a nutshell, the Can-Am performs better at higher speeds, making it the faster of the two rigs. On the other hand, the Polaris is an actual all-terrain vehicle. Thus, the Polaris RZR is your best pick if you are looking for a rig that can traverse any terrain.
All Can-Am ATVs and UTVs have a rugged and potent Rotax V-twin engine that delivers excellent speed, acceleration, and horsepower. The average horsepower of a Can-Am and this engine are rated higher overall by drivers than Polaris can offer. Additionally, it works better in more challenging terrain types.
So, if you are looking for a rugged, long-lasting off-road vehicle with good handling qualities, choose a Can-Am ATV. Most consumers prefer the Polaris ATV series when looking for a utility ATV that is better suited for towing, hauling, and other work-related chores.
And what about safety?
Maximizing rider safety is a top objective for both UTV and ATV manufacturers. Generally, UTVs are considered safer than ATVs because they are bigger, more comprehensive, and heavier than ATVs. Also, UTV designs may include extra protection, such as roll bars or cages, seat belts, doors, windshields, etc. Although some ATVs may have windshields, these rigs lack the features that give UTV additional protection. It's vital to keep in mind that the majority of UTVs and ATVs lack airbags.
How reliable are Polaris and Can-Am?
Reliability is mostly a matter of opinion in the case of things like an ATV or UTV. Each rider utilizes a different style and terrain. Yet, Can-Am ranked third, while Polaris ATV models placed fourth among the most reliable ATV brands.
Despite having varying strengths and shortcomings, both vehicles are remarkably resilient. Although the Polaris ATV is heavier, its superior suspension system makes it more comfortable on unpaved roads. Can-Am has better durability, higher weight capability and more cargo capacity.
However, it's important to remember that an ATV's strength and durability can vary depending on the specific model. However, Cam-Am often scores better on the durability scale. There would be little difference between each brand's most prominent and best-performing ATVs. 
How many recalls are there?
A Consumer Federation of America (CFA) report on off-highway vehicle recalls from January 2010 to October 27, 2022, shows that Polaris had the highest number of recalls, 56, while BRP was the third highest with 13 recalls.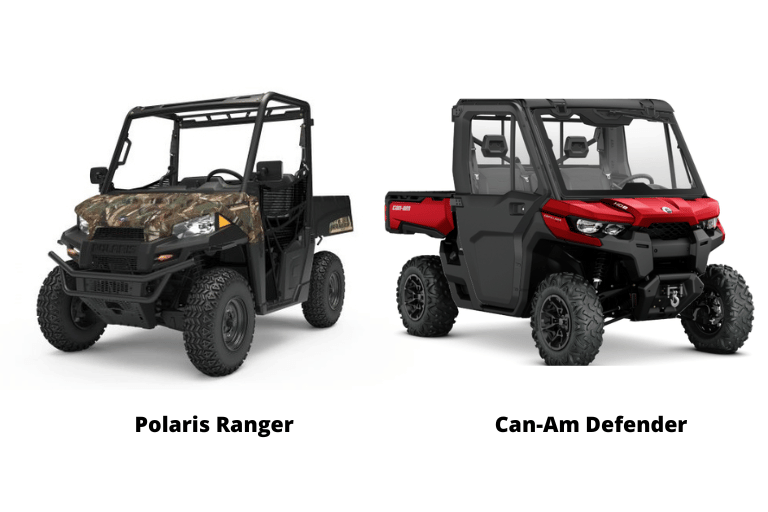 Also read: Polaris UTV Reliability, Check Your Model Here!
What about service points/dealers around the country and worldwide?
Can-Am vehicles are available in the USA, Canada and more than 100 countries through a network of over 4,200 dealers, distributors, and service centers. Use the Can-Am Dealer Locator to find a dealer near you.
Polaris has around 1,800 independent dealers in North America. It also has over 1,700 independent dealers and service centers worldwide through 23 subsidiaries and 75 distributors in more than 100 countries. You can find your Polaris dealer if you use the Polaris Dealer Locator.
What about the driver's comfort level?
The cockpits of these two vehicles are both incredibly cozy. The Polaris seat and seating posture are popular among drivers who value simplicity and the front-facing vision they offer. The Can-Am also offers excellent seats with plenty of legroom and a great degree of flexibility. The only problem with the rig is a slight noise from the intake behind the driver's head.
On smooth, well-travelled trails, many drivers find the Can-Am Commander to have a better ride. The torsional trailing arms maintain the camber's extreme stability in various conditions. At higher speeds, the same camber makes revving higher over bumps and debris simpler. The Polaris has some clout for the more rugged, mud-covered, and bead-locked tire clientele.
It also features an additional inch of suspension travel and ground clearance. Thanks to the locking front differential, crawling over rocks and logs is a simple task. When one wheel begins to slide, the entire differential locks; in other words, under the right circumstances, you are practically slippage-free.
The main point of contention regarding these rigs is which rides better. The issue is that each person utilizes their UTV for a different purpose. One might perform worse in the cold than in hot, wet, and muggy conditions. They both have the same CVT gearbox type, making it simple to navigate obstacles like slopes, dirt, and rocks.
Before deciding, assess the options and your surroundings.
What do owners think about Can-Am and Polaris?
The drivers'/owners' views depend on how they use the vehicles. For example, one rider stores theirs in a garage during the colder months and drives it a few times every summer. Another rider may reside in warmer areas and use their ATVs for ranch duties. They also enjoy weekend excursions in more challenging, rocky terrain. The two owners may have radically different opinions.
Generally, Can-am owners applaud their outstanding performance, while Polaris vehicles are famous for handling. Matters' reliability is a tough call, with Can-am coming to a point above the Polaris.
Also read: Are Can-Ams Reliable, Check Your Model Here!
What are the options for customization and accessories?
The best stock rims for side-by-side vehicles are made by Polaris and Can-Am, renowned for their commitment to excellence. They are excellent when it comes to conventional options.
The General is among the simplest UTVs you can get that looks beautiful and feels comfortable right off the lot. It comes with some of the best stock colors, seats, and headrests in the industry. However, Can-Am has made a considerable effort to allow for customization in its most recent models.
More intriguingly, the variety of aftermarket parts has increased as well. There are numerous alternatives if you want to enhance your Can-Am side by side. Typically, upgrades are always more expensive at the dealership, but there are a ton of options. You can save money by waiting to buy upgrades and accessories and ordering parts online, regardless of your vehicle.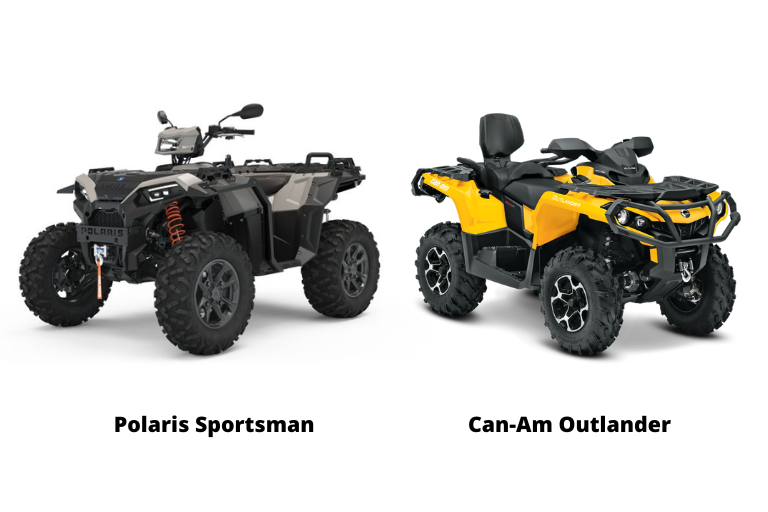 Also read: Are Polaris ATVs Reliable, Check Your Model Here!
Are Polaris and Can-Am innovative?
Can-Am has long been recognized as one of the most innovative producers of off-road vehicles. It has contributed various intriguing and practical features to the market, including incredible storage options and great value.
Polaris is a leader in off-road innovation, strength, size, and weight. Polaris leads the pack in payload ratings, towing, and rack capacity.
How are they dealing with the change to electric vehicles?
Polaris has presented its first electric UTV and displayed various test models across its product platforms, including ATVs, side-by-sides, and snowmobiles. In March 2022, Polaris Inc. tested the new fully electric UTV, the RANGER XP Kinetic with a Zero Motorcycles drivetrain. Early 2023 will see the release of the ATV.
BRP has also announced an electrification drive. The company plans to launch EV models across its product line by the close of 2026.