There are many off-road ATV/UTV parks where you can drive your vehicle in complete freedom. Unfortunately, it is not allowed to drive your ATV/UTV on public roads. So, if you want to go to such a park to have a very enjoyable day, you will have to transport your vehicle with a trailer or on a truck bed.
Some common questions are: "How do you choose the right trailer?", "Which one is suitable for my ATV/UTV?", and "Can I load an ATV on a truck bed?" All of these we'll discuss below.
Join our free Facebook group and ask your question there. We promise you, you'll get an answer from one of our team members or group members. Join the group here!
Types of trailers
There are many trailers available for transporting ATVs/UTVs, including:
Open Trailers
Flat Bed Trailer
Enclosed Trailers
Adventure Trailers
The materials used to construct the various trailers also vary, with steel and aluminum being the most popular choices. While both varieties have advantages and disadvantages, aluminum trailers are better.
Also read: Polaris Ranger Weight, Width And Length For A Trailer!
They are typically 30% lighter, require a smaller vehicle to tow them, have a higher payload capacity, and are simpler to assemble and move about. Additionally, aluminum trailers have a far higher resale value than steel-framed trailers. Further, they usually have a cheaper total cost of ownership, are made with higher-quality parts, and don't corrode.
The Pros and Cons of Various Trailers
The various trailers come with different features, advantages, and disadvantages:
Open Bed or Utility Trailer
The open or open bed trailer is a more affordable and widely used variant. Here the off-road vehicle (ORV) is in the open and subject to the weather, parking lots, and onlookers. Depending on the trailer manufacturer, this sort of trailer often features a few small side rails to prevent goods from falling off while in transit and offers a variety of tie-down options.
Pros:
Affordable
Easy access
A fantastic way to flaunt your rig
Smaller and lighter; easy to store when not in use
Load ramp. Getting your trailer ready for loading is simple because the back wall doubles as the loading ramp.
Cons:
Security/Theft. If left unattended in an unsecured location or public storage facility, the ORV and accessories are vulnerable to theft. Increasing your insurance coverage to include all aftermarket items is a good idea.
The natural source (wood) floor will need replacement.
Also read: Polaris RZR Weight, Width And Length For A Trailer!
Open Side-Load Trailers
These are mostly specialty items used for loading ATVs. They have the following unique benefits:
A dependable loading solution
Perfect for transporting two to four ATVs
No reversing for loading or unloading; load directly on and off.
Flat Bed Trailer
The flatbed trailer is the more robust cousin of the open-bed trailer. The only way to load your machine(s) onto a flatbed trailer is to manually create ramps on the back because it lacks side rails. Typically, the flatbed trailer has a higher load capacity and can fit three, four, or even five off-roaders.
Pros:
Cons:
Storage. Without side rails or half walls, the flatbed option makes bungee cording or other attachment types challenging, if not impossible.
Security/Theft. Like the open bed trailer, goggles, helmets, gas cans, or charge cables are prone to theft if left unattended in an unsecured location or public storage facility.
Also read: Polaris General Weight, Width And Length For A Trailer!
Adventure Trailer
The adventure trailer is the answer if you want to enjoy camping and hauling simultaneously.
Pros:
All in one. It's a terrific method to live out of your base camp, providing you with lots of space for storage and places to sleep that will keep you out of the elements.
Security. With many lockable storage bays and bins for all your camping and riding gear, this alternative eliminates all the theft concerns associated with an open-bed or flatbed trailer.
Cons:
Enclosed Trailer
The closed trailer is a fantastic choice if you have a bigger budget and want to safeguard your investment from the elements, sun damage, theft, and vandalism.
Pros:
Security. Closed trailers allow you to store additional items like a portable fire pit, shovels, gas cans, extra wheels or tires, generators, etc., without you having to worry about where you'll keep your trailer or how long you'll keep it there. You invested significant money in your new machine; this solution helps you safeguard it.
It can act as a second garage for storage or to prepare and service your ORV for a day on the trails.
Protection against the weather; keeps the sun, wind, and rain off your rig
Increased adaptability
Cons:
Price
Weight
Accessibility
Which Is Better, A Trailer or A Truck Bed?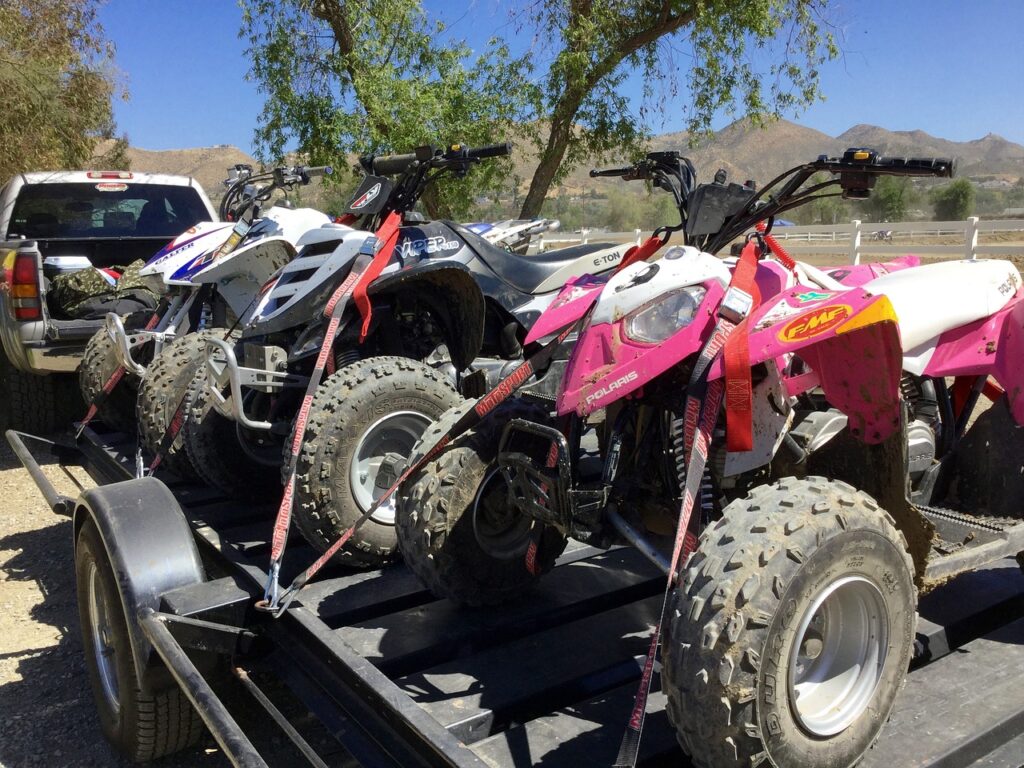 It's significantly harder to haul a UTV on a truck bed than an ATV. You require a bed that is at least 20 inches longer than the wheelbase of your side-by-side. So, your UTV will not fit in your truck bed if it's wider than 60 inches. You will require a trailer or truck rack to transport a machine that is too wide.
Also read: Can-Am Defender Weight, Width And Length For A Trailer!
ATVs are considerably simpler and can fit in the back of a truck bed with little difficulty. Unless a long trip kit has been added, they are typically short and slender. A typical ATV has a wheelbase of 51 inches and is 83 to 85 inches long. Thus, most ATVs can fit in a truck bed, and you may even squeeze a 6×6 ATV in a short bed.
A trailer is sturdy and has a higher load capacity. It's the only way to haul three, four, or even five UTVs. It's also the more expensive option.
What Are the Dimensions of the Trailer You Need?
Make sure the trailer you choose for your off-road vehicle fits your vehicle while making your choice. Compare the size and weight of your off-road vehicle, its accessories, and its gear to the trailer's load rating. Make sure your vehicle can fit on the trailer deck.
Owners of two-seater UTVs will need to consider substantially different trailers from those with four-seat side-by-sides. Remember that you must balance your ORV in the middle of the trailer. You'll unduly stress the moving parts and increase your chances of failing if you position your off-roader too far ahead or to the back of the trailer.
Also read: Can-Am Maverick Weight, Width and Length for a Trailer
For an enclosed trailer, you'll need a few extra feet on your vehicle's front, back, and sides so that you can easily tie down and open/close doors. The last thing you want to have to do when tying down your machine is curl up into the fetal position.
The lengths of UTV manufacturers differ by model and, in certain cases, by model year. The overall length of a 2023 Can-Am Maverick X3 Max RS Turbo RR is 13.7 feet. The length of the feet four-seater 2023 Polaris RZR Turbo S 4 is 12.5 feet. The difference of one foot could make the difference between an excellent fit and a poor fit.
Features You Want in a Trailer to Haul UTVs/ATVs
It would help if you had a trailer that makes transporting your off-road vehicles quick and easy. After all, riding the vehicle is what you enjoy most about it, not moving it. Choosing a trailer with the right additional features maximizes your convenience factor.
Also read: Polaris Sportsman Weight, Width and Length for a Trailer!
Experts recommend the following trailer features:
Deck over trailers – It enables the widest possible deck; the entire trailer deck rests on the wheels.
Side Ramps – Although nearly all trailers feature a loading ramp at the back, the greatest ORV trailers have side ramps that make them perfect for moving off-road vehicles. You can put your rig onto the trailer without turning it physically with side ramps.
You can locate a trailer with the number of axles, type of ramp, and other features best for you and your vehicle by working with your UTV/ATV dealer or a trailer vendor.
How Do You Load A UTV/ATV on a Trailer?
A good pair of ramps make loading and unloading straightforward. Take care when rolling into the trailer because you may fall off the ramps if you climb in too hot. Although it takes up valuable space, putting a spare tire/obstacle on the deck can keep you from shooting too far.
Also read: Can-Am Outlander Weight, Width and Length for a Trailer
Ensure there is an appropriate weight distribution when towing your off-road vehicle. Typically, it would be best to center the ORV left to right with 60% of the cargo weight resting in the front half of the trailer. For more details, consult the owner's manual for your trailer or contact your dealer.
Finally
Knowing the towing capacity of the car, truck, or SUV, hauling the trailer is essential. It's crucial because you also pull the trailer when you tow an ORV. You can find your vehicle's towing capability in the owner's manual or by contacting the manufacturer.
Also read: Can-Am Commander Weight, Width and Length for a trailer!
Recent Posts