Polaris Ride Command is a system developed by Polaris to improve the riding experience. The system can do more than just navigate. It has many other functions that make driving better. It makes your journeys safe, you can share information on the socials, and it keeps an eye on the vehicle for problems.
In short, in this blog, we discuss what Ride Command can do for you.
Join our free Facebook group and ask your question there. We promise you, you'll get an answer from one of our team members or group members. Join the group here!
The Features Of Polaris Ride Command
Polaris Ride Command is a technology platform that helps owners of Polaris off-road vehicles improve their driving experience. It has many functions, such as information about the vehicle, group driving, weather, trip planning, and more. The various options are discussed in more detail below. We will start with the navigation function.
Also read: 5 × Polaris Ride Command Problems and how to Fix it!
GPS Navigation
Ride Command provides detailed off-road trail maps, allowing riders to confidently explore unfamiliar terrain. The system shows riders waypoints, tracks, and trails, so they can plan and follow routes. Wherever you are, you will never get lost, as long as your vehicle is connected to the GPS, you will always find your way back.
Vehicle Diagnostics
Ride Command monitors and displays important vehicle performance information. The device alerts you if there are issues with the engine, such as a low coolant level, battery malfunctions, overheating, or any other error message. The system gives you a warning so that you can take the necessary action before bigger problems arise.
Group ride
Going out with your friends is fun and cozy. Ride Command has a feature, so you can follow each other when you ride the same ride. You can communicate with each other and share your location in real time. Polaris claims it promotes safety and improves the driving experience. The only condition is that all participants have Ride Command installed in their vehicles.
Social Connectivity
Another feature of Polaris Ride Command includes the social aspect. This allows riders to connect with other Polaris owners, share rides, photos and videos, and discover new trails and destinations. It creates a community of riders with similar interests. In order for this to work, all other riders must have Ride Command installed in their vehicle.
Weather and Notifications
The system provides weather forecasts and notifications, enabling riders to plan their routes in advance and remain informed of changing conditions. If bad weather arrives, you can adjust your ride accordingly and ensure that you are in a safe place if the storm breaks, for example.
Bluetooth Integration
This is a good thing about the system. Ride Command works with Bluetooth devices, so riders can use their smartphones or headsets to make calls, listen to music, or ask for commands. This makes Ride Command extra attractive to purchase and use, especially for the younger generation.
Trip planning and registration
You can plan your own trips in advance before you hit the road. You can choose which paths you want to take to get to your final destination. These paths can be saved for future reference, and you can share them with your buddies as well. This way you will never lose your favorite trails. This feature helps riders explore new areas and relive memorable rides.
In-Vehicle Display
Polaris' vehicles with Ride Command have a touchscreen that can be used to access and control all the system features and capabilities. This way you always have Ride Command at hand and all functions are at your disposal.
Vehicle Locator
This function tells you where your vehicle is located. This is very helpful if someone else is on the road with your vehicle and there are issues, and they need help. In addition, it also gives a safe feeling in connection with theft. You can always find your vehicle. You can check your app
Also read: Are Polaris ATVs Reliable, Check Your Model Here!
In summary, Polaris Ride Command is a tracking, planning, navigation, communication and multimedia system with the goal of improving the overall driving experience of Polaris off-road vehicle riders.
What Are The limitations Of Polaris Ride Command?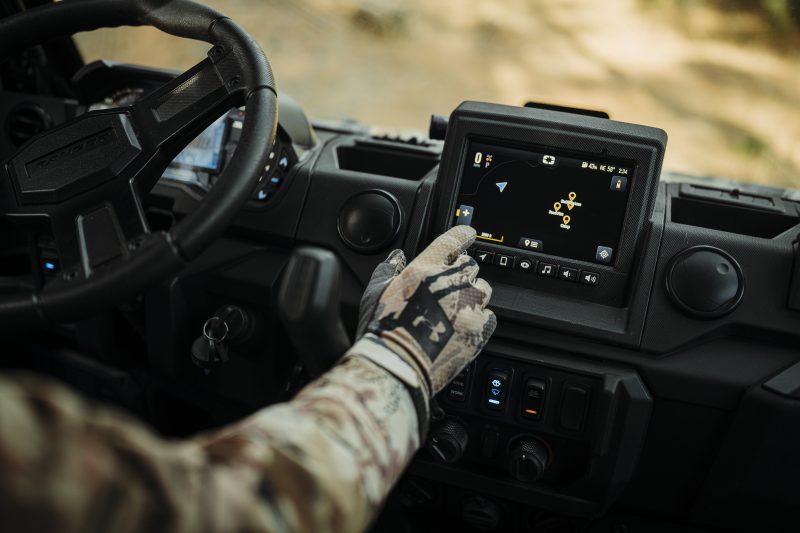 Even though I am very positive about the system myself, there are a few limitations to the system that must also be mentioned here; otherwise the story is incomplete.
Also read: Does Polaris Ride Command Work Without A Cell Service?
Compatibility
Ride Command is only compatible with Polaris off-road vehicles. It is not available for other makes or vehicle types. If you have a non-Polaris vehicle or plan to change brands, Ride Command may not be a suitable option.
Reliance on GPS Signal
The accurate functioning of Ride Command is dependent on a strong GPS signal. In areas with limited GPS coverage, such as dense forests or remote areas, the accuracy of navigation and communication functions may be reduced.
Also read: Is Polaris Ride Command Worth The Money? Let's Find Out!
Summary
I can tell you a lot about what the system can and cannot do, but you will have to decide for yourself whether the system has added value for you. It not only has functional value, but also an experience value.
Ride Command has many functions to monitor the engine and support your drive, while also having fun with your friends. It all depends on whether you can and want to pay for it.