What kind of problems does a Polaris RZR 1.000 normally have? In this blog, we've outlined all the most important things you should watch for when you're in the market for a Polaris RZR 1.000. In the rest of the article, we'll discuss every single problem in detail. Furthermore, we'll tell you how to identify it, fix it and how much it costs to fix. Read on!
Also read: Are Polaris UTVs Reliable, Check Your Model Here!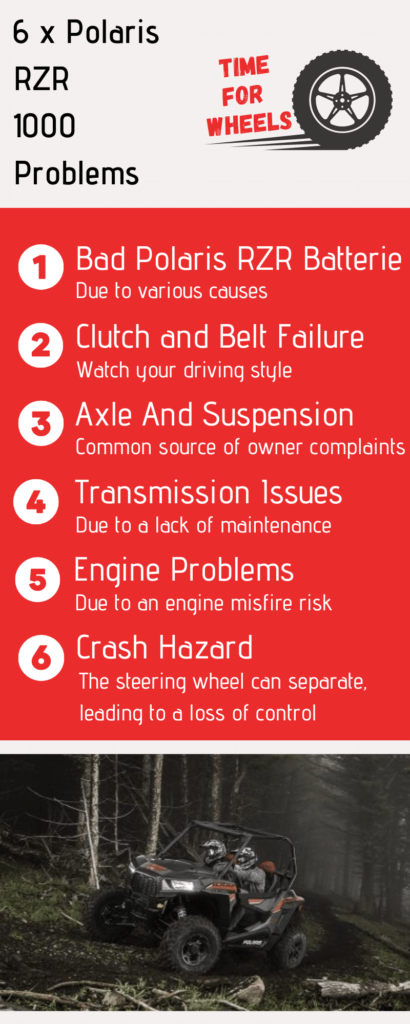 Join our free Facebook group and ask your question there. We promise you, you'll get an answer from one of our team members or group members. Join the group here!
1. Dead Polaris RZR Batteries
You may experience Polaris RZR battery issues due to various causes, ranging from a defective voltage regulator and incorrectly installed wiring that drains the battery to extreme temperatures. Yet, one of the frequent causes of a dead battery is auxiliary aftermarket that requires a lot of power to run. It includes stereo systems, winches, light bars, refrigerated coolers, etc.
For example, a customer reports that
"I recently purchased 2019 RZR 1000. I went for a ride in the snow today, but the battery was dead. It had been in the shop for roughly three weeks. I'm attempting to figure out what happened. I linked Wet sound's Stealth 10 soundbar to the battery and added two light bars. One is on the bumper, and the other is on the roof. They connect to the hood terminals."
The single battery with the UTV isn't enough to run everything. Installing a Polaris RZR dual battery kit can help because your auxiliary accessories run off the second battery. It reserves the primary battery for the side-by-side starts up.
2. Clutch and Belt Failure
Constant belt blowing in short periods often results from the driving style or something is wrong with your clutch, etc. The UTV has clutches quality issues; many users have reported the component ejecting from the clutches and producing a mess.
A customer complains that
"I recently bought a RZR 1000 with less than 900 miles, HMF exhaust, EPI clutch kit, and stock tires. I blew out the belt in the first 15 minutes on the path. But, before taking it out, I didn't scrutinize it. I assumed the dealer would have done so as part of a pre-sale examination. I was mistaken. It was fortunate that they changed the oil. Three days later, I received two new belts and installed them with a quick inexperienced clutch and secondary check.

I devoted a few days to break in the belt. Then, on the fourth run, a bushing popped out of the clutch, ripping a piece off the belt. So, after going back and forth with the dealer and explaining that I had put less than 5 miles on it since purchase, they are fixing it and have had it for the past two weeks while waiting for parts."
According to another user, this happens anytime a vehicle moves at a low pace while hauling a hefty cargo. According to him, he contacted Polaris soon after the failure, and a recall was issued. If you are experiencing frequent belt failures, check the clutch.
Also read: 5 x Most Common Polaris Clutch Problems!
3. Axle And Suspension Issues
A customer complains,
"My 2019 RZR 1000 axles keep breaking. In the last 6-8 months, I've probably gone through 10 axles. The left and right sides continually break; sometimes, I get 300 miles out of one, and other times it breaks after only 2 miles. It makes no difference whether they break into turf mode or are locked in. Polaris has been of no assistance."
Another customer request help,
"I have 2017 RZR 1000 and need assistance with suspension setup. When I add a couple of mates in the back, the machine appears very soft in the front and sags a lot in the back."
The stock Polaris RZR axles and suspension are a common source of owner complaints. However, it is worth noting that abusing the parts is a contributing factor in many cases. Although the RZR can handle any trail and terrain, more extreme terrain might wear it down over time. Potholes on poorly maintained back roads can quickly degrade stock shocks.
And shooting your UTV off of jumps every weekend causes your shocks to wear out faster and might result in a broken axle. OEM Polaris RZR 1000 replacement suspension can cost $850. Stock Polaris RZR 1000 axles cost around $89.95, while the heavy-duty aftermarket replacement Rhino Brand axles for the stock Polaris axles go for $225.95.
4. Transmission Issues
Transmission issues frequently arise from lack of maintenance, improper riding technique, or abuse. Bolts can back out and shutter the transmission casing owing to vibration, wear and tear, or mechanical problems caused by design flaws or cheap parts. Transmission problems can also result from defective drive clutches, a tight or loose transmission drive belt, or misalignment.
A customer reports,
"I own a 2019 Polaris RZR 1000 stock. I don't drive it as I stole it; I often ride in the sand and take good care of it. So, while I was at Little Sahara, I guess a bearing on my transmission failed, which ate a hole in my case and now costs $3500 to replace. My RZR has only 80 hours on it. I got in touch with Polaris. But, although the dealer informed them that the bearing had failed, they denied it and claimed that there was a problem. Polaris handling of this has completely disappointed me; the dealer claims that my parts only have a 30-day guarantee."
If you are experiencing transmission issues, check the clutches and adjust or replace the drive belt. You must replace a broken transmission casing. The transmission cover for the POLARIS RZR 1000 costs ranges from $469.95 to $939.90. The transmission rebuilt ranges in price from $2,800.00 to $4,800.00. The cost of an OEM Polaris RZR 1000 transmission drive belt is around $76.00.
Also read: 6 x Most Common Polaris Transmission Problems!
5. Engine Problems And Fire Hazard
Polaris and the CPSC announced a recall for 13,500 units of the 2016-2017 RZR models, including 1000, due to an engine misfire risk. The likely misfire and the exhaust temperatures may cause the surrounding components to become excessively hot and melt, or polluted brake master cylinder may create unwanted brake drag, creating burn and fire concerns.
If you have had your Polaris RZR check engine light come on only to discover it is a misfiring engine cylinder, you know how frustrating it can be. Besides catastrophic damage, engine misfiring often occurs from simple causes like dirty spark plugs, old gas, water in the fuel, a defective fuel pump, and gas flooding. The spark plugs are sometimes so filthy that they can't do their job. At other times, the spark plug is rusted or entirely broken. There may be water in the gas tank or fuel/air intake systems.
Misfiring can occur due to faulty spark plug cables, damaged cable boots, or even a few tree branches that have pierced the engine bay and ripped a cable off. You may experience problems such as a miss, a backfire, an engine that runs but won't idle or idles but won't rev up, overheating, or a power loss. To identify the engine problem, you can try some basic troubleshooting.
Investigate the spark plug and fuel system, including the tank vent, fuel line, gas valve, sieve, and fuel pump. Check the air intake system for cylinder leakage. Many engine issues like hard starts, misses, stalling, sputters, backfires, or engine shut down when driving can stem from a defective fuel pump. Examine the fuel pump pressure with a fuel pressure gauge attached to the tank outlet.
You must run your fuel pump with a gauge to measure the fuel PSI during regular operation to adequately test its performance. The pressure can be good at idle and drop at higher Rpm, indicating losing prime. An OEM Polaris RZR 1000 fuel pump replacement costs around $425.49 and has color instructions. You can install the pump within 30 minutes using simple hand tools.
6. Crash Hazard and Overturning
Polaris and CPSC issued a recall for 8,800 units, including RZR 1000, for severe crash concerns. The recall stated that the steering wheel can separate, leading to a loss of control. There is also an overturning problem. Overturning is a common issue when riding these vehicles, but the Polaris models have a problem with catching fire. When they are flipped over and rolled over in a specific manner. A recall might not be necessary if someone rolled their vehicle over, scraped their arm or broke something. However, there is a severe problem if a vehicle frequently catches fire during a rollover.
Featured image: https://www.polaris-orv.media/